If you are hovering on this page, one may assume you are already aware of the Gacha Club game and are looking for some fantastic Gacha Club outfit ideas that you could customize for your favorite characters. That said, for those new to this domain – let's just introduce you to the format. Gacha Club is a role-playing and character customization game on mobile (originally, it was available on Android in June 2020, but now it is also available on iOS as well). Herein, the gameplay is categorically split into customization of the characters, battles, and mini-games.
This article will highlight the various types of outfits that the game characters can try on, some quick facts about this game, and conclude on a warning note – about ways to protect your kids from the variety of online games. Getting started –
Some top Gacha Club outfit ideas
As you know already, the customization associated with the characters is wide and plenty. From changing their skin tone to altering their physical looks, a plethora of options are available for you! Here are some of the most – opted varieties to check out –
There's nothing better than a gothic chic format, in case you prefer to keep things a little mysterious and shocking. Dress up your Gacha club models like pirates from a ship in deep monotones, and paint their faces in a unique and scary manner. You could also add a half-eye shade or some horror-packed accessories that would enhance the overall look of your chosen model.
How about a School Day look?
Do you want to keep it simple and boring? After all, not every day is for venturing out, is it? In that case, the school day look is the best! Particularly targeting a younger audience, if it's a boy – a pair of formal shirts, trousers, and a tie would do the needful. However, as a girl – you will need a pair of formal shirts, a skirt, a tie, and a black or blue hair tie. The formal shoes – either one with a buckle or one with strings would be the perfect add-on to create an ideal school-going Gacha Club outfit ideas.
What's the Vintage Rage like?
Everyone thinks of the 70s when we talk vintage. The monochrome format, the polka dots, and the ribbons make up for an immediate choice. However, it's time to go back to the Victorian or the Renaissance period. How about having your little model deck up in ruffled shirts, tulle skirts, bodices, gowns, and fuller skirts? You can pair up a hairstyle according to the style of your dress and use beads and pearls to accessorize your look.
Categorized ideas to check out –
Here are some generalized Gacha Club outfit ideas that you may try out –
If you are looking for cute girly ideas to tailor your Gacha models, there are plenty to check out. You have the typical fairy angel look to conform to. For those wanting to opt for something different, you can add a pair of horns to the fairy outfit to make it a little wacky!
Apart from that, you can also opt for the little sweet girl outfit and look absolutely stunning in your Princess attire. With a host of options available, you can curate your girl with an ideal outfit and lap up some accessories to perfect its overall feel.
What if you wish to dress for an event?
Are you looking to dress your Gatcha model according to different events? Well, assuredly, you have plenty of options there. You can opt for a Halloween special costume by changing the look of the concerned model, picking up darker color tones, and setting the hair with wild headgear – keeping in tune with the basic premise of Halloween.
You can also deck up your model in red-and-white Santa attire and pull up a showy cap to complete the look. There are numerous choices that you can put to use to change the look of the attire, tone of the skin, and even alter their shape to make them fit into an event.
As far as the boys are concerned – there are a host of Gacha Club outfit ideas that is available for them. For the unversed – you can tailor their look from a traditional gun-wielding supercop to a rough and tough masochistic ruffian to that of a perfect army officer. Their look will depend on the game that you wish to involve them in and what type of terrain they are fighting in.
The colors that suit the best
Assuming you have read this article well, you already have a fair idea about the various outfits that you can style your dear characters with. Having said that, it is now time to check out the variety of shades that you can tailor your characters with –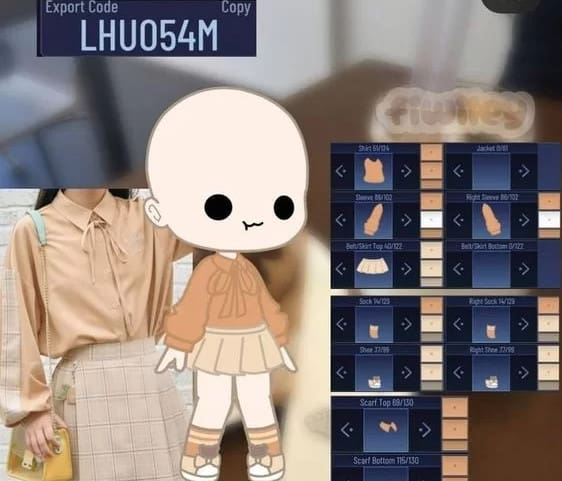 Perfect in panache and ultimate in style – black is one of the best available shades. If you do not prefer the original format, you can always use prints or combine them with shades of brown or white.
A complete brown outfit, though not seen most often – can be a great alternative to the usual black format. Monochrome in nature adds a variety of red shades to uplift the overall look.
Done with the dark and earthy tones? How about switching the look? If you wish to check out some lighter tones, you can always customize your Gatcha models with mint green, bright red, hot pink, or sunny yellow picks.
These are some of the various Gacha Club outfit ideas for you to modify your game's model. You can pick any of the aforementioned looks or even opt for something that is consciously different from the ones mentioned.
Did you know this about Gacha Club?
Assuming you have read this listicle about Gacha Club outfit ideas well, you might want to explore some of these in your next game as well. Before you actualize the ideas, it is time that you know some of the intricacies of this game.
Did you know that the Gacha Club game allows not only the customization of the primary 10 characters but also close to 90 other characters as well? You can store them and then bring them back to the tinker as per your choice.
Since you can customize any character at any time, therefore – even if you work on a character for a while, you can change the same at any given time.
If you are in the game's battle mode, you will see how the story plays out, and to proceed in the game, you need to read the text windows. The voice acting does not work in this game.
When you've entered a battlefield – you will find your set of units will automatically attack the enemies. However, if you wish to unleash any special ability of the character, you must tap on the icon of that character.
To upgrade your battle skills, you may use the units, and once the battle is over, you may collect the required currency and complete the game.
For the record – the game Gacha Club is available both on Android and iOS services. It has over a 9+ rating on both platforms.
Final Words
As interesting as these Gacha Club outfit ideas are, and even if the game's popularity is at its peak, without a doubt, too much involvement in this game is not advisable. Therefore, parents need to keep their kids in check, and for that, they could use introduce a 'permission system' before downloading any of the apps.
If that's not good enough, you can always cut off their access to the app store by either turning off the app store during screen time or using an app lock system. Apart from these technical safeguards, you can always have regular conversations with your kids and make them aware of the range of apps that are allowed for them to be used. Again, at times, you can sit down and try your hand at fighting a couple of battles at the Gacha Club game. If you liked this page, then keep checking this website for more exciting content like this.
Monalisa Mukherjee is a content writer and copywriter with close to 3 years of experience. She has written for websites like Biography Talk, Contour Cafe, He And She Fitness and Fiction Pad. She is currently associated with a noted Digital Marketing Agency and specialises in writing articles for travel, entertainment, cooking, celeb, lifestyle, tech, health, fashion and film news.