Did you just notice that stark heat stain on your newly-varnished wooden table? Bad news!! Now that you are busy searching out how to remove heat stains from wood, let's assure you – that your search ends here! In this article, we will try to bring forth some solutions you may apply to save your heat-marked wooden furniture. After all, refinishing wooden furniture is a time-taking and costly affair.
So, here's presenting the ways to remove heat stains – 
How to remove heat stains from wood? 
Here are some of the quick fixes that will assist you in getting rid of the heat stains – 
1. Make use of clothes iron – 
This is the first of the hacks, and also proven to be the 'most-effective' of the lot as well! Here's how to capitalize it to the maximum – 
Kickstart by cleaning the wooden table with either a dry or a wet cloth. 

Then place a thin towel over the stained surface. The mark must be completely covered, and yet the towel must allow ample heat to pass through. 

Put the iron at its lowest temperature. Then move it over the stained area in a singular motion for 7-10 minutes. 

Pause after one pressing is over and check your progress. Repeat the process a couple of times to get the required results. 
2. You may use a hair dryer – 
You wouldn't believe it, but a hair dryer is of great help in removing those annoying heat marks! As mentioned before, applying more heat is of great help when you are looking to remove heat stains; the heat from a hair dryer offers you a fantastic solution. 
Note: Please do a patch test before you apply this process since this does not work properly on every wooden finish. 
Start by cleaning the surface with either a wet or dry cloth. 

Then plug in your hair drier, and set it at the lowest possible heat icon. 

Finally, just like you wave it before your hair to dry it, follow the same process over the wooden surface. You will see the wood regaining its shade. 
3. Toothpaste – Baking soda combo is of great help 
Baking soda is of great help in removing stains or even otherwise. Toothpaste is an immediate hack to treat small burns. Combine them – and you have the perfect response to anyone asking you how to remove heat stains from wood! 
#Use non-gel toothpaste for the desired results. 
Concoct toothpaste and baking soda to create a thick paste (1:2 ratio) 

Apply it thickly on the marked surface and let it sit for 10 minutes. 

Remove it with a wet or dry cloth. 
4. Mayonnaise helps as well 
The moment you find that heat stain on the wooden surface, pick up that tub of mayonnaise and use it to remove the mark (you thought that mayonnaise was only for making the sandwich tasty?) 
The natural oils that mayonnaise is packed with, assist in removing the moisture locked in the wooden surface (the reason for its discoloration). 
Clean the surface and put a copious amount of mayo on the stained area. 

Let it rest for 2 hours. After that, you can wipe it off with a clean cloth. 
5. Salt and Olive oil combo also works 
Most experts consider this as more of an alternative to using mayonnaise. For the uninformed, when you combine salt and olive oil (or any vegetable oil as an alternative) and use that to remove the heat stains on the wooden surface – the oil penetrates into the wooden surface and opens up the pores of that. 
At the same time, salt dries out that concerned area, thereby reducing the moisture content. Naturally, the discoloration of the surface is reduced comparatively, and the heat stain becomes less visible. 
Start by cleaning the wooden surface with a wet cloth. 

Then combine oil (whichever you choose) with salt. Opt for a 2:1 ratio (salt: oil) so that the paste is thick. 

Rub it on the surface and remove it after 1 hour. Repeat the process a couple of times to derive the best results. 
6. Opt for the vinegar and olive oil combo 
If you are wondering how to remove heat stains from wood at home, if you neither have mayonnaise or even salt at your home – here comes another kitchen hack to help you remove the stain. Have vinegar at your place? If you didn't know, vinegar has natural anti-stain properties that help to fight those hardy stains. Combine that with olive oil – 
Mix both these liquids in equal proportions. After that, use a paintbrush to lightly paint this liquid over the heat mark on the surface. 

Let it rest for an hour, and wipe it off with a clean cloth. 
7. Check out the sanding process 
This is another of the alternatives to try, but only when you have more or less exhausted the rest of the techniques. If not done correctly, it may harm the wooden surface. 
Take the sandpaper and tear it into small pieces (like that of a copy). 

Clean the wooden surface that is stained. Then you can use the sandpaper, piece by piece – to remove the stain. 

Be very gentle while rubbing the sandpaper against the wood since using too much pressure could cause abrasion of the wooden surface. 
8. Dab some petroleum jelly onto the stain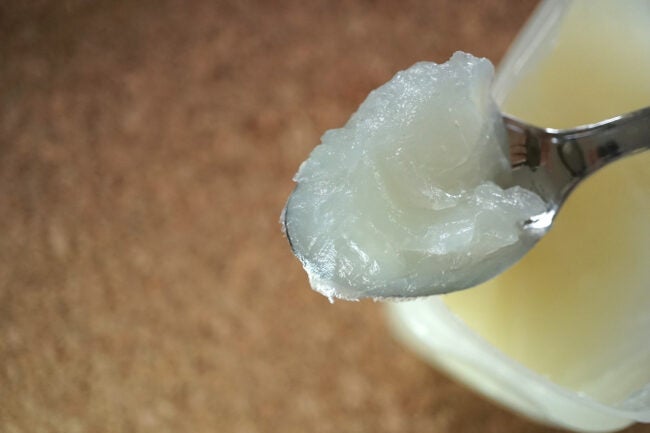 You already have it at your home! Here's how to use it – 
Wipe off the wooden table with either dry or wet cloth. 

Dab an adequate amount of jelly onto the mark and let it rest for 1 hour. After that, remove it. 
Your last resort – Make use of Wood Restoration 
If, in your quest to find how to remove heat stains from wood, you have exhausted all the above-mentioned homemade removal techniques, then as a last resort, you may try – the wood restoration process. Though it is a professional's job and also requires a hefty investment, trust the experts, this will enhance the longevity of your wooden surface. Here's how to do it – 
Check out your budget and see the available wood restoration companies. 

Take your wooden piece to the concerned service provider and get it repaired. 

If they have the facility, do cover your wooden surface with a screen to protect it from damage in the long run. 
Points to remember before trying out any process 
Before you go on to figure out which process you will try to remove the heat stain, here are some key points to remember – 
There are multiple types of wood finishings. What works for one may not work for the other. In fact, though the 'steam' process is considered to be 'universally applicable' – there might be a specified wooden finish that the steam process would not work well with. Always conduct a patch test before actually applying. 

Once you are done removing the heat stain, do not forget to clean the table with a wet cloth. You may also use any soap or cleaning solution for better results. 
Can you prevent heat marks?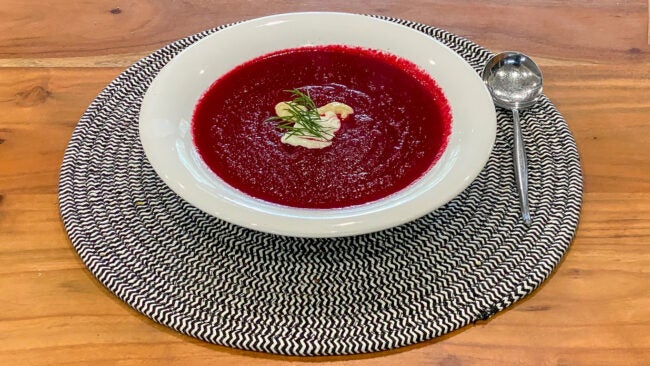 Surely you can! After all, isn't prevention better than cure? To ensure that the problem that you are facing now is not repeated over, you can – 
They are available in a variety of shades, and you must use them before keeping any hot pan, pot, or dish on the wooden table. 
Coasters and cup holders are great alternatives 
Those lovely floral-printed coasters and cup holders are of great help! They not only accessorize the look of your home but also prevents the forming of heat stains. 
If you are looking for some long-term solutions, then there's nothing better than using sealing for the safety of your wooden furniture. In terms of alternatives, you have a glass sheet, epoxy resin, or anything similar to create the ideal barrier. 
Wrapping up 
If you have been reading this to-do guide well, then assuredly you now have an idea about how to remove heat stains from wood, quite better than others. Having said that, as much as you may try to avoid, heat burns may happen. Therefore, in the future, you need not panic and rather keep track of the ways by which you will be able to remove the same. 
If you liked this article and are looking forward to more exciting know-how like this – keep checking this space! 
Monalisa Mukherjee is a content writer and copywriter with close to 3 years of experience. She has written for websites like Biography Talk, Contour Cafe, He And She Fitness and Fiction Pad. She is currently associated with a noted Digital Marketing Agency and specialises in writing articles for travel, entertainment, cooking, celeb, lifestyle, tech, health, fashion and film news.