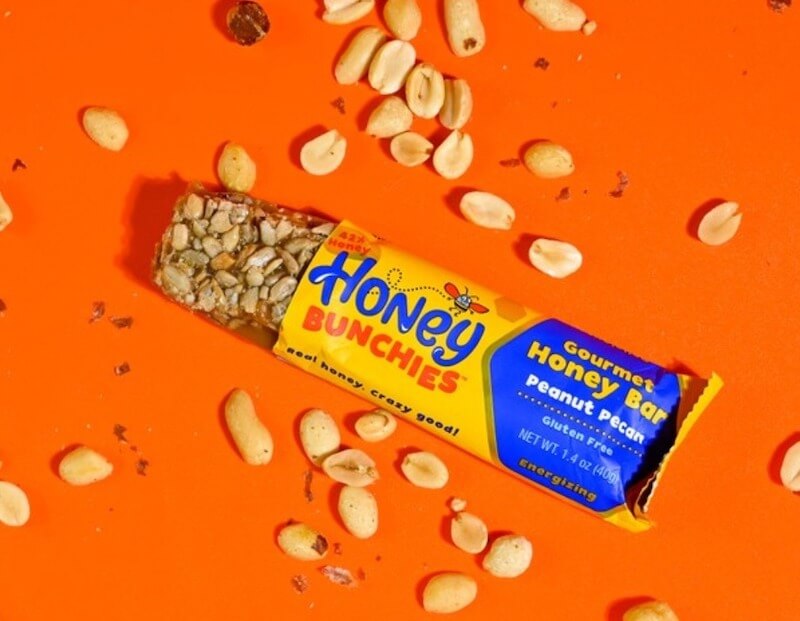 At times, it is the biggest disappointments that give rise to the biggest achievements of an individual. That's exactly what happened at the Honey Bunchies Shark Tank special episode of Season 14 of Shark Tank. The Chief Marketing Officer Kendra Benett presented the family-secret recipe for honey bars to the sharks for a deal – but unfortunately returned empty-handed. Though the sharks were not impressed with the gourmet recipe, the company, now, with its own outlet and online presence, is a massive $2 million entity. 
This article will give you insight into the 'story' behind these honey bunchies, how they came to be so famous, the Shark Tank experience, and the current scenario of the same. So, here is the story – 
What is the Honey Bunchies Shark Tank story? 
For those who haven't been able to catch up on the episode telecasted on ABC network, the story goes as follows – Kendra, who represented the brand Honey Bunchies (now renamed – Bon Bee Honey) was seeking a $200k investment in exchange for 10% shares of her company. The company that she represented is a family-owned business selling hand-curated honey bars in Longmont, Colorado, USA. 
The story behind this goes like this – Kendra's father was a fighter pilot associated with the US Army and had served in Vietnam. Now that he was in the Vietnam war zone, there was a lack of proper diet. Hence, to sustain himself and stave off his hunger, he picked up the habit of having candy bars. This did momentarily suppress his hunger pangs – but led to a massive increase in his blood sugar levels. 
Once he was back home, Kendra's mother, in a bid to control her husband's sugar levels, created an alternative for him – a peanut and honey-coated bar. It was created with gluten and grain-free substances that helped maintain her husband's health and care for his blood sugar levels as well. That is how the recipe of what is today known as – gourmet honey bars was formulated. 
What were the Sharks reaction to these bars? 
The story of Honey Bunchies Shark Tank started when Kendra in February 2022, noticed a LinkedIn connection – a suggestion of connecting up with a Shark Tank casting producer. After connecting, she pitched in her family business. The application process took 4-months, and after that, they were filmed in September. 
In due course of this show, Kendra stated that the bars were sold at a retail price of $2.99. They were available at Whole Foods, Walmart, King Soopers, Kroger, Natural Grocers, and Seven-Eleven stores, as well as on a box basis at national retail stores online. The sharks praised the 'nutritional' value of the bars and were quite optimistic about its future but decided against investing in the same. 
The primary Shark Tank judge – Mark Cuban, came up with the situation stating that the energy and candy bars business was brutal and hence he would not prefer to invest in the same. At the same time – Lori Greiner, co-judge of Shark Tank, was doubtful about the quality of honey, while Daymond John also passed on the opportunity. 
With such a disappointing fate at one of the biggest platforms, what would one think of its future? Well, surprisingly – these honey bunchies seem to have a fantastic future. Let's see how –
How did honey bunchies become popular? 
In that same episode of Honey Bunchies Shark Tank – Kendra revealed that it was her brother Edward who came up with the idea of turning this family recipe into a full-fledged retail set-up. Edward tried multiple concoctions of the honey bar that his mother used to make for their father. After a series of trial and error, he finally got the combination right. 
The bar, under Edward's monitoring, was divided into two delicious categories – Coconut Almond and Peanut Pecan. Unable to come up with a unique name, he went ahead and named it after his wife – whom he used to call honey bunchie. 
He kickstarted the business by approaching local retailers, using the 'guerilla marketing' technique. Then when Whole Foods picked up the product, it became famous – within the US and even in the international markets. 
With the primary ingredient being honey, the Peanut Pecans are packed with – milk, tapioca syrup, peanuts, pecan, vanilla, and sunflower kernels. At the same time, the Coconut Almonds are a concoction of unsweetened coconut shavings and cream, almonds, tapioca syrup, vanilla and sunflower kernels. 
What makes them so special? 
Quite like any other hand-crafted gourmet food, these honey bunchies are also curated at home from ingredients that were found in the Payne kitchen. It is the distinctiveness of these bars, the taste not akin to any other honey bars in the market – that makes them an immediate choice. 
For the unversed – the primary ingredient being honey, the Peanut Pecans variety is packed with – milk, tapioca syrup, peanuts, pecan, vanilla, and sunflower kernels. 
At the same time, the Coconut Almonds are a concoction of unsweetened coconut shavings and cream, almonds, tapioca syrup, vanilla, and sunflower kernels. 
During the Honey Bunchies Shark Tank episode, it was revealed that – 42% of the bar is made of honey, paired with nuts and then topped with sunflower – kernels that are slightly salted, giving it the typical 'salty-sweet taste.' 
The key aspect of these bars that categorically differentiates them from other honey bunch bars is that they are gluten-free, as well as soya, grain, and dairy-free, making them suitable for consumption even for people with medical conditions. The company is very precise about the fact that their bars do not have any added artificial colors or preservatives in their bars. 
What is its current net worth? 
From the financial data accumulated from multiple internet sources, the current net worth of Honey Bunchies (Bon Bee Honey Gourmet Food) is stacked at – $2 million (first quarter of 2023). The company as you are already aware, is a family enterprise, and therefore, in this 50% women-owned and 50% veteran-owned enterprise, the financial dealings are held jointly. 
As of now, the company has incurred quite some profit, with its products available at all the notable food chains and Whole Foods. Additionally, they have gained 4 million subscribers for their website – honeybunchies.com, which has, as mentioned before, been named – Bon Bee Honey. 
Did you know this about Honey Bunchies? 
Here are some exciting and fun trivia about this venture that you cannot miss out – 
After the Shark Tank appearance – the family's online traffic surged. With orders coming in, the peak traffic was marked at 10,000 people clicking at the same time. 

As of now, they sell at 1200 locations – only in Colorado. 

The company's launch date coincides with Edward's anniversary date. Also, the company's packaging is inspired by childhood paintings of Kendra. 
Now that you have clarity about the Honey Bunchies Shark Tank scenario, how about you trying to give wings to your entrepreneurial ventures? Scared of participating in such a big platform? Well, whatever the result, here are some reasons why you must try to put forth your ideas – 
Benefits of competing at Shark Tank
Let's check this out – 
The key point of taking your idea to the big stage is to – present it before qualified people who have the required knowledge about the same. If you win it, the game becomes bigger. If not, you get to know how the game is played. 

There have been multiple cases wherein the concerned participant has not won the contest, or even any monetary amount. But their ideas were informally backed up in the market by the reputed entrepreneurs who judge the show. This itself gives you a huge backing to enter into the target market and make a mark for yourself. 
Therefore, even if you have a small, comparatively insignificant idea, do have the courage to take it to the Shark Tank platform since, in one way or the other, it will boost your venture. 
Last thoughts 
The story behind Honey Bunchies Shark Tank is a paradigm of never giving up attitude and facing all adversities with utmost courage in your heart. Without a doubt, this attitude brings forth a chance to compete, however adverse the scenario. As they say, it is after many trials and errors that one can crack the code. In this case, as well, this holds true. 
For those who haven't caught up on any episode of Shark Tank, it airs on ABC Network at 8:00 pm ET.
If you liked this exciting story of courage, then keep browsing this website for more! 
Monalisa Mukherjee is a content writer and copywriter with close to 3 years of experience. She has written for websites like Biography Talk, Contour Cafe, He And She Fitness and Fiction Pad. She is currently associated with a noted Digital Marketing Agency and specialises in writing articles for travel, entertainment, cooking, celeb, lifestyle, tech, health, fashion and film news.