Horror and science fiction – two unique tastes blended together – and officially named 'sci-fi horror' makes it one of the most exciting genres. Though when thought about the same, mentally, it brings forth a host of grotesque images, but as a mashup, they are incredible! As you scroll down, you will get a set of 20 sci-fi horror books that will simply blow your mind!
With a number of sub-genres associated with this, there will be no dull moment as you will explore the pages of these books. Let's take a look at the same –
Top sci-fi horror books you must check out
Here is the list of books that you may add to your reading list if you have just started fantasizing about the sci-fi horror genre –
1. The Skinner
Author: Neal Asher
This list cannot commence without mentioning this name! One of the classics in this genre of sci-fi horror books – Asher's The Skinner, is part of the Spatterjay series. Set against the lethal underwater domain, this book upturns the serene ocean water and presents its menacing side wherein visitors are drawn in with hidden agendas in mind.
This book is wired with a thick storyline along with interventions by artificial intelligence and inventive technological advancements – making it one of the most credible works of this genre.
2. Dead Silence
Author: SA Barnes
The horrors of Titanic never go out of the human mind. When the concept of Titanic meets The Shining, imagine the ruckus of horror it's going to create. Standing true to the same – this book tells the story of a woman and her crew when they board the luxury cruiser that has been long lost and almost part of the wreckage. However, the snitch is – when they board the cruiser, they get into a nightmarish wreckage that is still continuing!
Touted to be one of the best of our times, the whispers in the dark and the shadowy flickers curl your blood, yet keep the thirst to unveil the mystery on!
3. Hell Divers
Author: Nicholas Sansbury Smith
Coming from the bestselling author of fantasy novels, this is one of the coolest sci-fi horror books that you could manage to read! Starting 200 years after the 'purported' World War III, this shows a human domain that, ravaged by the nuclear bombs, now simply has airships as their home.
As the last survivors simply hang on somewhat to save their lives, the scavenging runs to the ships by the team of Hell Divers depict the sights of a dystopian world.
4. Terra Formars
Author: Yu Sasuga
Trust the experts when they say this – the readers are still not prepped to take this storyline! Humans have colonized Mother Earth, and how! But, their idea of colonizing Mars needs to be corrected! Humans who wanted to terraform Mars left behind roaches and algae as a predecessor to human colonization. Surprise, shock!! When humans return back – they see the roaches have mutated into deadly beings, and what was supposed to cement human civilization on Mars now becomes a reason for its diminishing!
The violence depicted in this book is wild, and however powerful you might be – there's no chance you can escape this menace.
5. Ship Of Fools
Author: Richard Paul Russo
Let's set you up to the premise of this book – the starship Argonos has for years together wandered aimlessly. Though previously all its searches have returned negative, this time, there is a transmission that is luring it in. Is it a nearby planet that breathes life finally or is it some alien's alluring call that foretells danger? To know about the same, you've to read it. Spine chilling and yet delving into the intricacies of human life – this has cemented its name quite strongly on that listicle of sci-fi horror books you cannot miss out on!
6. Leech
Author: Hiron Ennes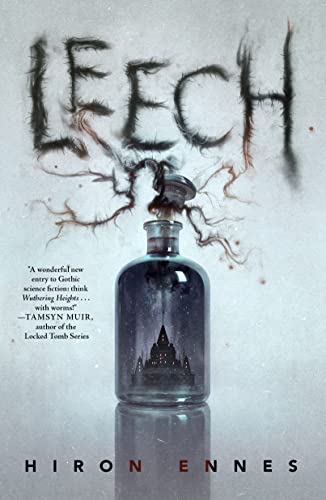 Adding to your excitement levels in reading sci-fi horror books is this credible tale by Ennes that additionally binds you to the gothic world. Not clear? Think – releasing a can of worms on the terrain of Wuthering Heights! Yes, that's exactly the squirm this book makes you feel.
A curious mix of bubbling horror with vile characters taking over – this trails the investigative journey of the protagonist, who is hiding a secret of the post-apocalyptic world and trying to figure out how the previous doctor passed away. There's no chance you will want to miss out on the chilling details of what happens in Verdira.
7. Blindsight
Author: Peter Watts
What the author does in this book is – presents a mysterious loop of stories and then tries to solve them by creating more terrifying stories. Definitely not for the faint-hearted, this is a story that delves into what happens aboard The Theseus when a set of individuals who are technologically engineered come in contact with a set of aliens from another spaceship. As strikingly different as the alien world is – there is a certain sense of nihilism in this novel that you cannot miss out on!
If you are a reader who can take horror to heart sportingly, this is the book you will not want to miss out on.
8. The Girl With All The Gifts
Author: Mike Carey
If you are a fan of Stephen King's book genre-there's no chance you would want to miss out on Mike Carey's sensational work that deems itself amongst the best of sci-fi horror books.
Narrating the story of survival in the dark, dense apocalyptic world, shows how a fungus that was initially attacking and controlling insects now starts to do the same to humans due to mutation.
As the disease spreads, humans are turned into 'hungries' wanting human flesh – and Melanie, the infected little girl, finds her ability to control the other infected individuals. A compelling tale of – will she/will she not keeps the readers guessing! Pick it up from your bookstores right now!
9. The Cipher
Author: Kathe Koja
Another of the classics on this list, Koja's book comes with a compelling storyline and a surprising twist, all by using the famed yet unexplained 'doorway' trope. It starts with a casual love story of Nicholas and Nakota, as all goes well – only until a hole is discovered at Nicholas's flat, and Nakota takes the lead in understanding and revealing its range of secretive stories.
As the story progresses, the readers find Nicholas delving into the depths of this hole since it has already seared his soul, and there is no turning back from it!
10. Contagion
Author: Erin Bowman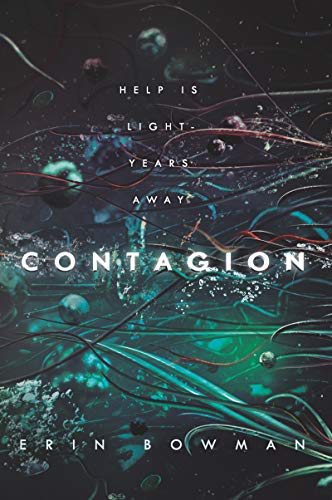 Do you remember those creepy horror survival games of your childhood? This is one of those sci-fi horror books that gives you a real-time feeling of those creepy lanes as you turn the pages of the book! As the Odessey crew moves out to respond to a distress call from a remote planet, the readers are led to uncover secrets that they never knew existed!
The team moves ahead to discover a ship stacked with dead bodies and a contagion (which affects one of the rescuers) that the group must fend off! Set up in an intriguing space, there's no chance you could be missing this page-turner from your reading list!
11. The Luminous Dead
Author: Caitlin Starlin
Let's warn you! This is a book set against a thrilling premise, but without a doubt, it is one of the most torturous books that you may come across! Gyre Price lied on her resume! She wants the expedition job badly, and in her pursuit of discovering minerals, she gets leashed by a handler, who controls her body with drugs and drives her to do the most insane of activities!
Gyre is lost, paranoia takes over her sanity, and she has no control over her body – yet she has to survive and 'serve' her master, who himself has 'secrets uncalled for.' A horrifying read, as mysteries are unveiled, and the darkness of greed takes over – you would be left wanting for more, yet panting at the information received!
12. The Running Man
Author: Stephen King
There's no ending to this list if you don't mention Stephen King. One of the most noted sci-fi horror books that delve into the domain of a dystopian thriller – this may remind the audience of the latest K-thriller Squid Games! The story of a desperate man's constant attempts to win a reality TV game, where staying alive is a task – and people experiencing poverty are seen as nothing but rodents- will send a shiver down your spine!
A #1 bestseller, this tense page-turner will introduce you to the cruelty of the ethics-less capitalistic world and the constant habit of the US media to glorify the violence perpetrated globally.
FAQ you cannot miss
Which of the abovementioned sci-fi horror books did you like? Well, if you haven't read any of them. before you kickstart the list, here are a couple of queries that you may have.
1. What categorically is known as sci-fi horror?
When the landscape is science fiction, with a blooming of horror in it – one may categorize it as sci-fi horror. This genre also includes elements such as – a post-apocalyptic world, a futuristic set-up, a sense of isolation, and a sudden void with manual or machine-made terror inserted into it.
2. How did this sci-fi horror trend start?
For the uninformed – the initial instance of sci-fi horror happens to be Frankenstein by Marie Shelley, in 1818. Since then, this genre has gained massive popularity and is one of the most-read genres of this age.
3. Who are the authors to start with?
When exploring a new genre, it is best to start with classics. Therefore, you too can opt for – Ray Bradbury and Richard Matheson. If not, you can always check out the Twilight series. At a personal level, Rod Serling's The Monsters Are Due On Maple Street is an all-time favorite.
Last thoughts
This list has some of the most-noted sci-fi horror books that have made a mark globally and are deemed classics. If you have read a couple of them, then you can always check out the rest. In case you are a newbie, then, you can pick any from the list that is mentioned above.
Did you like this story? Also, do you have any recommendations that you would like to add to this list? Then do add it and keep checking this space for more!
Monalisa Mukherjee is a content writer and copywriter with close to 3 years of experience. She has written for websites like Biography Talk, Contour Cafe, He And She Fitness and Fiction Pad. She is currently associated with a noted Digital Marketing Agency and specialises in writing articles for travel, entertainment, cooking, celeb, lifestyle, tech, health, fashion and film news.