If you are hovering on this page, you may be stuck while moving on Roblox! Well, you are not alone! A host of players are facing – what is called, in gaming language, the Blue Box Glitch. So, how to get rid of blue square on Roblox? Also, why is it happening? Is there any way to prevent it? 
The answers to your queries are right here! This comprehensive guide will explain to you all about this technical snag, ways to fix it correctly, and explore the reasons behind the same – to ensure you do not face this problem again. Let's get to the point – 
What is the Blue Box glitch on Roblox? 
Simply speaking, this blue square or blue box snag restricts you from moving ahead in the game. A blue square-like structure appears, and you are suddenly caged into that, and you cannot navigate through the user interface. It is like everything comes to a stop and can be akin to your device freezing. 
Why is it happening rarely?
Guessing you are with us till here, one can safely assume that you have clarity on how to get rid of blue square on Roblox from the fixes mentioned above. But as an aware gamer, to prevent this from happening in the future, you must understand the causes behind the same. Here's quickly noting them down for you – 
You could be in a poor network zone
The gameplay and temporary snags are happening in Roblox because you are in a low-connectivity zone.
It could be due to failure to load assets or texture 
if your gadget does not match the optimum levels of Roblox, then you could fail to load the texture and assets of the game.
Coding errors are the most common ones
At times, Roblox faces coding errors that bring the blue square to your screen. You must be careful of the same.
Third-party extensions and gaming bugs are another issues
For the uninformed, the Roblox game has its own set of bugs, and that requires direct intervention from the game's developers. Also, the use of thiord-party modifications interferes with the Roblox gaming process. 
Errors from the Roblox studio itself 
At times, the problems arise within the Roblox studio itself (probably). In those cases, you must follow the solutions mentioned above to deal with this, which would mostly solve the issue. If not, connect with the Roblox support team and detail your issue. They will direct you further. 
Are you using outdated versions of the game? 
The last reason why you are facing an issue with the blue box is that – you are playing an outdated version of the game. Update the game to the latest version. 
These are some of the key factors you must consider the next time your gaming is restricted.
Though this is not a common occurrence, in recent times, there have been multiple complaints about this. 
Here are fixes to deal with the same – 
How to get rid of blue square on Roblox easily? 
In this section, you will get the plan that you must follow to deal with the blue square in case it appears on your gaming screen – 
Fix 1 – Check your Connection to start with 
Check your connection if you are getting the blue square restriction on your Roblox game. The easiest way to prevent the same is – connecting to another website. If that turns out to be unsuccessful, then restart your router and then your PC and disable any VPN that is installed. 
Fix 2 – Disable useless programs running in the background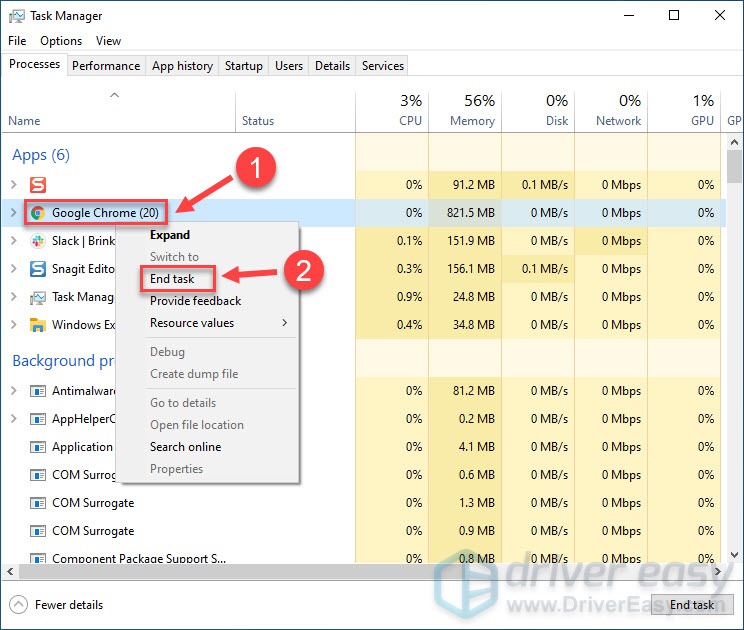 Assuming that the initial step does not solve the issue for you, go on to the next step, which is closing down the background programs. At times, the Roblox game does not work in tandem with these background programs, and your game can freeze. 
To do this, you will have to click on the Task Manager and then click on the StartUp tab. After that, disable all the programs that are mentioned in detail. Once that is done, switch back to the Processes tab, and from there, get to the Background Processes. Finally, End Task by clicking right on your mouse to put a stop to all the programs running in the background. 
After this, try restarting your Roblox game, and in all probability, you will find that the blue square issue is resolved. 
Fix 3 – Update the Graphics driver 
Say you have carried out the fixes mentioned above, and yet the problem has repeated itself. How to get rid of blue square on Roblox in that case? It's time to update your graphics driver. As you already know, to avoid this issue, you must use the latest version of Roblox. But you must update your graphics card! If you have incompatible/outdated drivers, such issues will recur in an illustration game like Roblox. Hence, update the same now. 
Fix 4 – Opt to change Graphics quality 
Another thing that you can do to kickstart the game from the 'freeze' zone is – to change the quality of your graphics. When you are playing on a low-powered desktop, it might not be able to handle the high-quality graphics. Therefore, adjust the Settings to remain in tandem with your desktop's quality. 
Go to the Menu section of your Roblox game. From there, go to the Settings tab and alter the Graphics mode to the Manual one. After that, you will have to lower the quality accordingly, and you will see for yourself that the issue will be resolved accordingly. 
Fix 5 – Disable your Antivirus temporarily 
Let's try to understand the situation here. You have checked your connection, disabled the programs, and adjusted the graphics. Perhaps the issue was temporarily resolved, but it occurred again. What do you do now? Well, you need to disable your antivirus temporarily. So, after you have followed these steps and before you get to the game, simply inactive the antivirus temporarily. It so happens that the antivirus, to filter the harmful viruses, interferes with games like these. 
Supposedly, your problem will be solved. But, if your game still continues to crash, it is time that you go in for the next fix! 
Fix 6 – Have you checked the system files? 
Another key area you will have to check is – the system files. Corrupt or damaged system files could lead you to get the blue square issue! Perhaps the reason why your Roblox is crashing is due to this. Get a professional PC repair tool to look into the same before you go for the next fix! 
Fix 7 – Clear cache, files and disable third-party extensions 
Another key to figuring out how to get rid of blue square on Roblox is deleting the files and cache from your desktop as well as turning off the third-party extensions. This is one of the best ways to solve any desktop-related issue since these extensions and caches tend to interfere with the regular gaming process. It is no different for Roblox. 
Fix 8 – Update your Windows 
The last step that you will have to take to resolve this query is – updating your Windows. Ensure that you are using either the Windows 7 or the 10 version since either matches Roblox's parameters. The reason why your screen is constantly freezing is probably due to this. 
When you follow these fixes categorically, you can get rid of this blue square issue as you play your game on Roblox. 
If nothing works – If you have tried out everything that one could advise you about how to get rid of blue square on Roblox and yet you get no solution, then it is time to connect with the Roblox associates. There could be a problem from their end. 
Since you now know how to handle it, assuredly, you will do a good job. But, ensure that this does not repeat the next time you are playing the game. 
Last words 
For all the lovers of gaming programs and avid gamers – Roblox is nothing short of a treasure hunt. Getting to curate programs and play games set by others is no short of a miracle! If you still need to check out the details, you must do the same immediately. Also, if you face a blue box glitch in the gaming process, you can always follow the fixes above and figure out how to get rid of blue square on Roblox. Did you like this article and want more gaming articles like this? Keep watching this space for more! 
Monalisa Mukherjee is a content writer and copywriter with close to 3 years of experience. She has written for websites like Biography Talk, Contour Cafe, He And She Fitness and Fiction Pad. She is currently associated with a noted Digital Marketing Agency and specialises in writing articles for travel, entertainment, cooking, celeb, lifestyle, tech, health, fashion and film news.