If you are a wannabe quilter, then here are some basic quilt patterns you can start practicing with. Quilting can be a stressbuster skill that is not only enjoyable to practice but can also give you a source of income. Besides, you can also do it just as a fun activity and embellish different spaces of your home with colorful wall-hanging quilts. There are different quilt patterns available in the market, from simple to mind-boggling ones. However, if you are a beginner, you need to start with the basic quilting patterns. It is why this post elaborates on some of the most basic quilt patterns you can consider to embark on your long-haul quilting journey. Let's proceed!
What Is Quilting? An Overview
Quilting is a process of joining a minimum of three layers of the fabric together to form a bedding accessory. Quilts are used in the winters to make the body warm. The history of quilting dates back to the medieval age and has evolved with time. You can make it manually using thread and a sewing machine. Also, you can make it mechanically with the help of a machine. The process of quilting yields the products wherein three layers of the fabric are sewed to form a padded surface. Moreover, it can give a gorgeous look to your bedroom decoration and other spaces of the home. Many people do quilting for their living, whereas other, as a hobby.
Easy Patterns For The Beginners
Now that you know the history and evolution of quilting, below are some of the most accessible patterns that can facilitate you in your beginning stage. Check them out!
1: Block Quilts
Block quilting pattern is a basic pattern you can master with the utmost ease. These quilt patterns include the simple square blocks weaved with each other. Different square patches are weaved with each to form a pattern. Keeping the pattern constant, you may try different hues and designs to embellish the product. Nine patch quilt can be taken as an example of a block quilt pattern that has 9 blocks in it. The central and corner blocks are of a single color, whereas the remaining ones are of a different color. If you have just started, this one can be a safe bet for you.
2: Four Patch Quilt
Four patch quilting pattern is an eminent pattern and can be seen widely in most similar works. As the name indicates itself, it utilizes the four different patches of the fabric. They are all square arranged in two rows having two squares in each row. Besides, you can subdivide the squares to form more complex patterns. These quilt patterns are simple, yet they can add a different charm to your bedroom environment.
3: Striped Quilts
Striped quilts are the most straightforward quilt patterns that even a novice quilter can make a basic practice of the quilt machine handling. You can make them by joining one stripe to the other to give it a form of a
quilt. Besides, they look enticing and offer an aesthetic appeal to the eyes. They are very handy and you can embellish them with the tiny leftovers of the fabrics that can't be used for any other purpose. You may utilize all kinds of stripes that are in sync with each other in terms of their visual appeal.
4: Half Square Quilts
These are the styles in which the squares are diagonally divided to form triangles. People may often get confused between the half-square and triangle quilt patterns; however, these two are entirely different. More intricate ones can be made using half squares, creating different combinations of the patches. To understand these blocks better, you should decompose the whole pattern into a single square box. It will make you understand that the two squares are diagonally folded into a triangle and then again sewed with each other to form a square having two different patches. It is a common, yet easy pattern for people who just stepped into the game.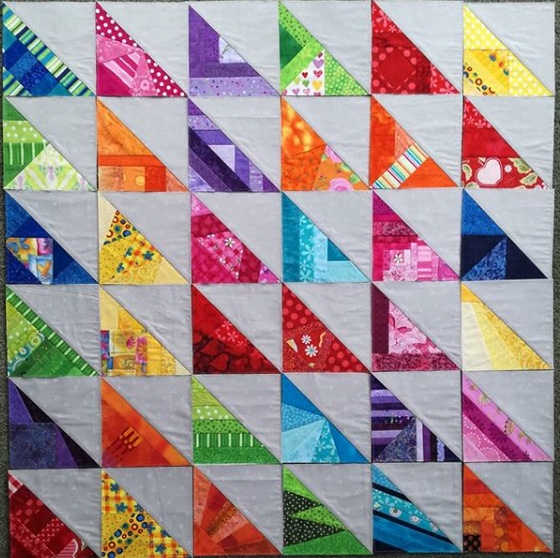 5: Triangle Quilts
Triangle quilts are also easy quilt patterns. You can compile them with multi-color or left-out fabrics. To make them, you will need to cut the quilts in a triangular shape in the first place. When selecting the quilt patches, make sure that they are in aesthetic harmony with each other. Using abstract combinations does not work every time, especially when you are a novice to the quilting game. Now that you have your triangular pieces, you can sew them in a single row. Now press them and make more rows in a similar manner. In the end, you need to assemble them all together to give the final products.
6: Zig Zag Pattern Quilt
Zigzag patterned quilts give an impression of triangular waves to the eyes. These triangular crests and troughs look captivating and can be suitable for newbie quilters with ease. You can use simple designs, yet the sky is the limit to creativity. These quilts offer a simple homemade vibe and can make you homesick, even when you are at home. The zigzag effect is created by sewing the triangular stripes together, provided one stripe is made with a single fabric. Try it out to see how far you can go with perfection and creativity.
7: Rainbow Cuddle
Rainbow quilts are basically the color play quilts. You can choose any pattern for this. It can be a triangle, half-square, and several others. In this design, you have to play with the colors to produce the color of the rainbow, wherein the colors look embracing each other. You can use stripes, curves, and other geometric shapes to form a rainbow-like pattern. These quilts are easy to make and suit the best to the small kid's bedding.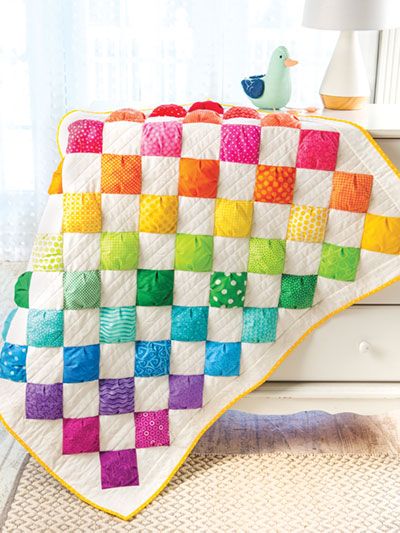 Final Words!
So, how was your quilting experience? The quilt patterns described in this post are the basic patterns you need to master before moving to the advanced ones. Understanding the basic patterns help you to play with these patterns to make a more intricate style. If you liked it, we have more daily-life hacks for you in our blog section. Check them out!