Derek Zoolander is back! He still remains 'ridiculously handsome' since the time of his appearance in the 2001 movie, which was followed by a 2016 sequel. This time he is stealing hearts in blue in the recently released Pepsi Super Bowl LVII advert. With more and more people showing interest in the advert and Zoolander memes becoming a rage globally, why not go back in time (digitally!) and catch a glimpse of the movie itself? Do you want to know where to watch Zoolander movie?
This article will give you the details of the same. Also, it will give you an insight into the reasons for its popularity so many years down the line and a glimpse of the meme fest that it sparked recently. Let's get to the details –
Where to watch Zoolander film online?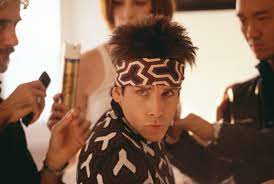 This film is available to be viewed on
Hulu
Amazon Prime UK
JustWatch
YouTube
Apple TV
You must subscribe to any of these portals to watch this cult classic.
If you want this film on Hulu – you have to get the combined pack of Hulu, ESPN and Disney+ at a monthly amount of $12.99. In case you want to rent it on Amazon Prime, you will have to rent it for $1 (for 1-time watch). If you have an Apple, you can also watch it on per-time rent of $5.92. As far as YouTube and JustWatch are concerned – fees for these portals is not clearly determined, and you have to check while renting.
Why has it gained the status of a cult classic?
A goofy satire based against the backdrop of the New York Fashion industry, this film depicts the characters of Derek Zoolander and Hansel McDonald, along with Derek's love interest Matilda Jeffries. Though initially, the film is a dark comedy depicting the world of haute couture and its darkness, when it comes to plotting and killing the President of Malaysia – the film suddenly takes a surprising turn.
What makes this film a cult classic is – it is not a mere fashion meets heist and espionage movie. Rather, it has the glamour that could put it well in the Y2K category. Also, in the garb of being funny, this asks the justification of the fashion collection and highlights the pain of underpaid workers. The outrageous plot, the parody of the fashion culture and the mockery of ethos and privilege – makes it one of the most viewed comedy films of all time!
With the 2001 movie ending on a satisfying note, it gives way to a sequel wherein the primary characters are back searching for Derek Zoolander's son, who is supposedly missing. This movie twirls in the modelling world and is as chaotic as its predecessor. Wondering where to watch Zoolander sequel? It is mostly available on all the abovementioned portals that showcase the original movie.
How did it spark a meme fest suddenly?
One thing is quite evident as one stands amidst the blooming social media – nobody knows what or why 'a specific thing' becomes the netizen's favourite. Something similar happened with Zoolander, which after two decades suddenly sparked a meme fest, with more and more people who haven't watched this classic before now wanting to know where to watch Zoolander.
Just swaying by the trends, for those who have watched the movie – you must remember the whole confrontation scene between Ben Stiller's character – Derek Zoolander and Owen Wilson's Hansel McDonald. That awkward stare, pout-filled expression and slow meeting of the eyes (with Who Is She playing in the background) seem to have caught the netizen's attention! The Know Your Meme culture has suddenly received a huge push, and people seem to be having a gala time laughing at the awkwardness between the two male models!
Check out any of the mentions, and the lines go as –
'When you Google a celeb's age, and they turn out to be two years younger to you'
'Me when I see my younger sibling in the school hallway.'
'When the movie I'm watching says the title of the movie in it.'
Clearly, with these memes making their way to people's social media profiles – there's little chance that people will forget this cult comedy in the upcoming times!
What are the actors doing now?
Standing today, the primary actors associated with this movie have gone on to have a successful professional careers. As you already know how Ben Stiller, at this age, is making waves with his recent Pepsi commercial; Owen Wilson has gone on to star in multiple films, with him currently filming Hall Pass.
As far as Christine Taylor is concerned – who played Matilda Jeffries, and Will Ferrel, who played Jacobim Mugatu – both have successfully established themselves as bankable stars in the industry.
Have you watched the movie?
Now that you know where to watch Zoolander, it is time you subscribe to the respective platforms and get a tub of popcorn. Assuredly, there will not be one dull moment as you watch and enjoy this laugh riot!
Want to know more about cult comedy films and where to watch them? Keep browsing this portal for details!
Monalisa Mukherjee is a content writer and copywriter with close to 3 years of experience. She has written for websites like Biography Talk, Contour Cafe, He And She Fitness and Fiction Pad. She is currently associated with a noted Digital Marketing Agency and specialises in writing articles for travel, entertainment, cooking, celeb, lifestyle, tech, health, fashion and film news.