What's a reality series if it does not boil up some controversy? American broadcaster TLC's always 'in controversy' Sister Wives is a prime example of the same! Based on the controversial topic of polygamy, this showcases a polygamous family and their daily routine. Though the television landscape has changed since the start of the show in 2010 to now, the interest in this reality series has not weaned even a bit!! So, where to watch Sister Wives? You can log onto subscribed portals like Discovery+, Amazon Prime, JustWatch, Hulu Live, and Yidio.
So, what are those factors that make this show a superhit? What's the current status of the plurality of their marriage? What are the wives currently doing? This article will detail it for you –
Where to watch Sister Wives?
If reality shows are your all-time favorites, then there's none better than TLC to bring to you the best of the same! Airing Sister Wives, based on polygamous family relationships for nearly a decade now, TLC has been garnering quite some eyeballs and definitely more than mere millions of bucks.
For those who wish to catch live streaming of this show – it airs on TLC every Sunday at 10 PM (ET). Currently, it just finished airing the 17th season, which, quite like its previous seasons, was a sureshot hit. But if you are not a TV regular or looking to stream all 17 seasons together – you can watch it on Discovery+($4.99/per month), Just Watch, Hulu Live, Amazon Prime, and Yidio.
Discovery+ uploads new episodes between 2:00 – 3:00 AM on Sunday mornings.
What's the 'big fuss' about this show?
With more and more people asking where to watch Sister Wives on social media platforms, as a novice, you may be wondering about the 'fuss' regarding this show. Well, it is a show that documents the story of a polygamist family – starring Kody Brown and his wife Robyn with his set of ex-wives – Janelle, Christine, and Meri. The family has 18 kids from different mothers.
The family originally lived in Utah but then moved to Las Vegas (2011) and then to Arizona (2018). Though technically, Kody is married to Robyn only, he supposedly is in a spiritual union with the rest of his wives. As weird as it may sound, the primary reason why this family participated in this reality show is to enhance the awareness regarding such families and how society does not acknowledge this union, despite their doing nothing 'illegal' as per the laws (both within the state and the federation) of USA.
For all the loyal viewers of the show, this is one of the most dramatic reality shows that have been made by broadcasters in a long time. As you go through the episodes, you will see how the family has been subjected to not just societal and cultural prejudices but also to prosecution by the state of Utah.
However, despite it all – the family has managed to hold its traditions and customs high and also challenged the court case (it was dismissed in 2016, since Kody was legally only married to Robyn).
Apart from this, the drama, theatrics, topics, and the host of emotions displayed in the show make this one of the most unique content created by the TLC network.
What is the current status of the show?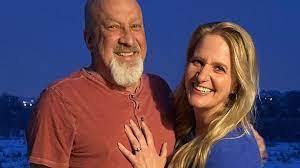 One of the biggest hits from the house of TLC, Sister Wives airing since September 26, 2010, has currently finished airing its 17th Season – from September 11, 2022 to January 8, 2023. Much like its previous seasons, this season of the show was nothing short of drama, revelations, bombshell truths, and a host of shocking moments.
For those who wish to get a glimpse of this season before they figure out where to watch Sister Wives – the last season of the show gave an idea of the breaking apart of the Brown family.
Kickstarting the drama with Kody's split with both Meri and Janelle Brown and later reconciliation attempts, this season also focussed on – Kody's allegations against Christine, her defence, and how Robyn blamed Christine for this breakup.
With the show ending on a high note – and the news of Christine breaking up with Kody to get engaged to David Woolley at the age of 50, claiming – she has 'never been in love like this before' – the anticipation for the season 18 has increased comparatively. The fans cannot seem to wait any longer!
Is there a Season 18 coming?
It is on the cards! The filming started on February of 2023, and after Christine's decision to part ways with Kody after close to a decade, the show's popularity has skyrocketed. Despite her engagement with her current partner David Woolley, Christine is still part of the show. The audience is now looking forward to seeing the changing dynamics within the Browns after this news. They will closely follow her move from Arizona to Utah and document how she spends her monogamous life hereafter.
Do you want to know where to watch Sister Wives season 18? For the record, as of now – TLC is still the home of this reality show and you will be able to watch it on this channel. As far as the digital portals are concerned, Discovery+ has always been at the forefront of airing this show.
But as of now, there has been no confirmation on the part of the OTT platforms about their airing of the 18th season. There has been no confirmation about the date of airing from the makers of the show, but tentatively viewers can expect it to air in the fall of 2023.
Enjoy the streaming
Now that you know where to watch Sister Wives, get your subscription (if you already haven't) and a tub of popcorn. Keep the tissues handy since this reality series is full of drama, and you might tear up seeing some cozy family moments and enjoy your TV nights!! For more exciting content like this, keep following this website.
Monalisa Mukherjee is a content writer and copywriter with close to 3 years of experience. She has written for websites like Biography Talk, Contour Cafe, He And She Fitness and Fiction Pad. She is currently associated with a noted Digital Marketing Agency and specialises in writing articles for travel, entertainment, cooking, celeb, lifestyle, tech, health, fashion and film news.