Since its introduction in 2015, Discord must have connected you with some of your contemporaries and co-gamers. It has been of excellent service to you as a platform for creating a bridge via texting, audio, and video formats. However, if you are browsing this article on how to transfer ownership on Discord – Yes, it is feasible – it implies that it is time for you to move on. Well, we will help you out with the answer.
As you scroll down this article, you will get specific details associated with – transferring ownership of various gadgets and answers to related queries such as multiple owners, taking back ownerships, notifications of the same, and others. Please read through carefully.
How to transfer ownership on Discord?
Since most gamers use the Windows platform, this gaming app was characteristically designed to suit the demands of the PC. However, a long has that time passed since this platform was restricted to gaming purposes. Now it has expanded to other arenas such as cryptocurrency, start-ups, and such others. So, how would you transfer this ownership?
If you are working on a PC
Go to the Discord App and navigate down to the Server.
From this Server, you can follow the drop-down menu. As you check out the menu, you will get to the Server Settings.
In that Server Settings, you will find User Management; from there, you will have to click on the Members segment.
In that Members list – search out the name that you wish to transfer the ownership.
When you figure out the name, you will automatically see Three Dots beside that name.
From there you will find a drop-down menu and choose the Transfer Ownership icon.
Tap on Transfer Ownership to complete the process. Here is the answer to the query about how to transfer ownership on Discord when it comes to your PC.
If you are working on a Handset
It is no secret that many people use Discord even on their handsets.
Go to the Discord App and go directly to your Server.
Now, do you surely see the Server Name? You will find Three Dots beside the name of your Server.
From there, you will have to click on the Settings icon. From there, scroll down to the Members icon.
From here, you will have to search out the person to whom you will transfer the ownership.
You will have to click on the concerned profile and then continue with the Transfer Ownership process. As you click on that icon – complete the Transfer process.
This is the second part of answering how to transfer ownership on Discord.
Are you sure that you are the owner?
Surely, you must be! After all – you are here searching out for how to transfer ownership on Discord, and you are here questioning yourself if you are at all the 'owner'! Well – for the record, it is best that you check the details at the earliest – atleast way before you go in for the ownership transfer. How would you do it?
Check the server in the 'Connectivity Domain' and figure out if there is a crown icon beside the same
However – if you have self-appointed yourself in an Administrator role – then the crown icon will not be visible. In that case, you may –
Go to the Server icon, and from there, follow a dropdown – Server Settings. As you click on that, you will immediately see the Delete Server icon. If you get to see this icon – You are the Owner of this Discord Profile. If not – You are not the Owner of this Discord Profile and might just be an Administrator.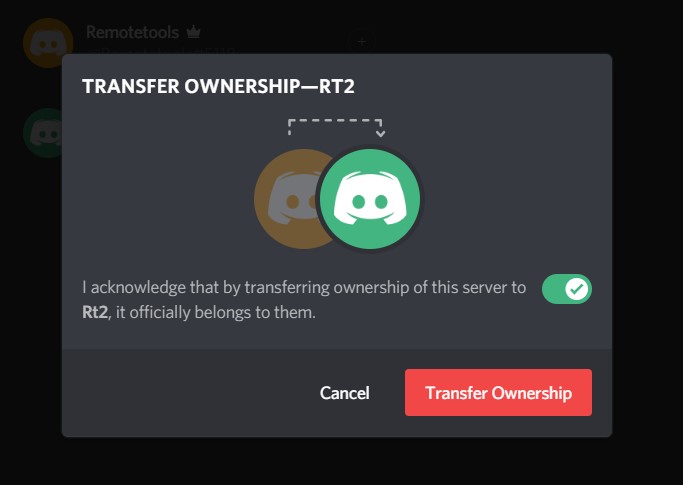 What if there is more than a single owner?
Discord has a singular owner. However – there is a policy of having multiple administrators who hold considerable sway over the platform. They have access to all the procedures of the platform, apart from the deletion process.
In fact – they even hold access to channels that have been marked as private and are not restricted against any of the data available.
Will Discord notify you about this transfer?
There is no formal process from the end of Discord to notify the recent -owner of the transfer. Therefore this has to be a manual interaction between the parties. Else, if you find a crown symbol beside your profile – you may take it as an acceptance of ownership transfer.
For further details – you will have to toggle through the settings of the server to check their functions.
Can you take back your ownership?
Well, you were busy searching for answers to how to transfer ownership on Discord. Now that you have – or if you will (think carefully again) transfer the ownership, there is no process to gain it back. You will have to make a formal request to the concerned party to whom the transfer has been made. Now, if he/she wishes to – then may transfer it back to you or may not.
A little note about account deletion
You have already checked out the response to how to transfer ownership on Discord. Now – you may wish to go in for the account deletion process. There are multiple posts available on the internet that will provide you with answers to the deletion of an account on Discord. You may follow them well to get clarity about the process.
What will happen next is – the once server owner will be shown as a deleted user. After a specific time limit – the account will be deleted axiomatically.
You might have other queries –
Can I leave the server without anybody's knowledge?
There is no direct answer to that – but you can always make your exit less prominent. Go in to change your profile details, or for that matter, create a new ID and keep the known one inactive. Also, try lying low for a few days by disconnecting from your group on Discord. Do not take personal calls or revert back to personal messages. After a certain point of time – people will stop noticing your absence.
Any repercussions that you may face
The only repercussion that you are supposedly thinking of now is – whether your messages on the server will be deleted or not. Well, it has to be done manually – always, and therefore, if you have not done it or accorded someone permission to do the same – the messages are still there. Another thing – if you have got banned by Discord, then the person who banned you gets to decide the fate of your messages.
Moving on
Have you got clarity about how to transfer ownership on Discord? Well, in that case – it is time that you follow the required procedures and carry on with the Discord ownership transfer process. For more updates on technology – follow this space.
Monalisa Mukherjee is a content writer and copywriter with close to 3 years of experience. She has written for websites like Biography Talk, Contour Cafe, He And She Fitness and Fiction Pad. She is currently associated with a noted Digital Marketing Agency and specialises in writing articles for travel, entertainment, cooking, celeb, lifestyle, tech, health, fashion and film news.