Hi, new Mumma! If you are browsing your phone for postpartum essentials for Mom, chances are that – your little one is asleep. Also, now finally, reality has hit you!! Perhaps you are dealing with so many physical and mental issues that the whole point of 'becoming a mother ends all your problems' seems like a fake story. Right now – all you want is a final solution to ALL YOUR PROBLEMS, AT LEAST PHYSICAL!!
Relax. This content will explore the natural and regular sets of essentials required for new mothers. Keep your calm and read through the article to gain clarity on the same.
Noting down the postpartum essentials for Mom
This is going to be one long list. Brace yourself –
What will you need for bleeding issues?
Postpartum bleeding (check the frequency, though, if it is too much, it could be a sign of something else) is a regular issue you will have to face. For that, you will require –
1. Maternity Maxi-Size Pads
Get yourself boxes of maxi pads or urinary incontinence ones. You must understand that the body, post-childbirth, is discharging Lochia, which contains blood, mucus, and some bacteria. Hence – for a long time now, you will not be able to use tampons, and these maxi pads are your partner. Just make sure that these pads are paraben and chlorine free.
Chux Pads are also a necessity
You will need another kind of pad (add it to your list of postpartum essentials for Mom) – the chux pads. They are waterproof underpads that are placed below the bed or your sitting place to prevent sudden bleeding incidents.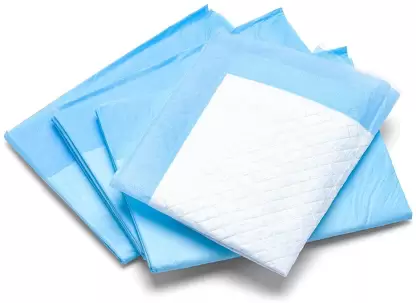 2. Maternity or Mesh Underwear
The most crucial product. Your entire bottom will be sore, and that will hinder your movement in a significant way. In this case – the mesh-type maternity underwear is what you will require for breathability, stretch, and holding up the ice packs.
There's more coming up –
The sores are hurting? They need to heal now –
This list of postpartum essentials for Mom, will be incomplete if these products are not added. 
3. Sitz Bath
This tub of cold or hot water (choose your poison) will enhance blood circulation and reduce swelling in that area.
4. Ice packs and Hot Bags 
Another of those products that assist in reducing the swelling of the lower areas and, at times, your back and neck portion. 
5. Squirt Bottle 
Alternatively referred to as a Peri bottle, this is packed with warm tap water. Every time you visit the bathroom, you will require to use this over your perineum and urinate. This will not just heal the area but also disinfect it.
6. Epsom salts and Numbing products
Epsom salts are best for a warm bath. Apart from that – for those sudden pain sensations, you will require – sprays, foams, and anesthetics.
Please take care of your breast
Suckling your baby is tough, and you need to be careful with your breasts.
1. Maternity bra
It is natural for your breasts to be tender after you are done feeding your little one. For that – you will have to find a bra that supports the front with tenderness.
2. Breastfeeding pillow 
This reduces the strain on your neck and back, especially in the initial months of breastfeeding. It is a must if you have had a C-section delivery.
Did you have a C-section?
If your response is a Yes – then do read this section. If not, thank your luck and skip to the next section.
1. The garments
You have already been given a list of all the loose-fitting clothes you require, along with the undergarments. Stick to that. Additionally, buy yourself a stretchy belly band that will assist you in supporting your back and abdomen. Wear it with the doctor's permission since it may not suit everyone.
2. Pillow for your belly
If you have had a C-section delivery, then every time you make slight movements, chances increase that your incision is affected. In fact – there have been multiple cases wherein the stitches have taken time to heal since the mother was not very careful with the movements.
Get a bed pillow and press it against your abdomen when you are nursing your baby or during any activity – such as working, sneezing, eating, and any untoward movement.
3. Stool Softener 
Almost 10-12% of women who have delivered their child via C-section have constipation issues during their healing period. Hence, it is essential that they consume a stool softener that will assist in the passing of stools (bowel movement is a massive issue post-delivery).
These are some of the postpartum essentials for Mom that you will specifically require if you've had a C-section.
Some natural postpartum essentials to check
The list of postpartum essentials for Mom mentioned above is the regular set of things you will require. But how about you wish to go closer to nature? Here's another list of natural products that you may wish to check out.
1. Bath salts
Put them in warm water and take a dip for as long as your baby allows.
2. Postpartum cooling spray
Your bottom will constantly be aching! After all – you just delivered a human! Hence you better spray it up 'all naturally' before it goes to hurt you more.
3. Postpartum panties 
You will need them because they are soft and stretchy (albeit with some darkness). Leaks will be your partner for some time now.
4. Lotions and creams 
Nipple creams and herbal moisturizing lotions are the keys to better healing. Since they are paraben free, hence they naturally restore the female body.
5. Washable Breast Pad
These help in catching the drips after you are done feeding. They are economical and organic in composition.
Do not miss out on the non-essentials
Yes, you thought, or perhaps people around you made you think that your physical and mental health is not as important as that of the newbie. Well, that is far from the truth, and close to 13% and above women suffer from postpartum depression.
Postpartum health issues? About 1 out of 8 mothers face these symptoms. In lower-economic bracket countries, the number of women who face mental or physical health issues post-childbirth is gravely undervalued. Quite ironically, even for the most modern of families, at times, these postpartum essentials for Mom,  are nothing but luxuries.
It is due to this reason many face postpartum depression and specific other health issues that they choose to ignore. You could click on this page if you want to know more about the other postpartum symptoms not to ignore.
Take care, new Mumma – you have a long way to go
Now that you have the checklist of all the postpartum essentials for Mom at your disposal, cross-check what you have stocked on and what is left. Get the remaining items from the nearest medical store and keep yourself prepared. Also, kickstart (yoga start is the best) your morning workout routine. Take care of your mental health. For more updates on postpartum news, do check this space.
Monalisa Mukherjee is a content writer and copywriter with close to 3 years of experience. She has written for websites like Biography Talk, Contour Cafe, He And She Fitness and Fiction Pad. She is currently associated with a noted Digital Marketing Agency and specialises in writing articles for travel, entertainment, cooking, celeb, lifestyle, tech, health, fashion and film news.