Living in a world where navigating the skies is a regular affair, exploring the stratosphere in luxury is restricted to the elite. Owning a private jet as a staple asset is a luxury that only one with deep pockets may afford. But even in this case, not every jet is curated similarly, and the one with more to offer gets the better one. So, who's got the best? That's what we plan to reveal in this listicle of the most expensive private jet and their owners.
This content has been written after scouting aircraft registries and publicly available data. Alright, gather around – it is time to reveal who flies what –
Who has the most expensive private jet?
#1. Flying First – AirBus A-380 – Alwaleed Bin Talal – $502 million
The world's most expensive private jet is owned by one of the wealthiest men from Saudi Arabia – Prince Bin Talal. They say you can buy the world with money, and that holds very true for the Prince, whose air vehicle is so luxurious that its prayer room (yes, the aircraft has one studded in gold) rotates to face Mecca from any direction.
For the unversed – the facilities that one may receive on board are – a concert hall, garage space, stable for transporting camels and breed horses, Turkish baths, and a wide-spaced dining hall. Do you really have to visit the palace now?
#2. Taking the Second Flight – AirBus A-340 – Alisher B Usmanov – $500 million
The second-richest Russian has the biggest aircraft in the now war-stricken country. Putting behind even Putin's personal jet, this 'Bourkhan' airbus is headed at 568 mph and is a luxurious land of leather. With an additional $100 million invested into it – the lavishness is evident in the leather chairs, bathroom, seating area, and sleeping area.
With a range backing up – 13,699 kilometers, it could fly straight from Moscow to Tokyo without stopping! That's what the most expensive private jet offers to you!
#3. Flying Third – Boeing 747-430 – Sultan of Brunei – $100 million
Owned by the Sultan and piloted mainly by Prince Mateen, this air vehicle from Brunei's palaces is another notable aircraft. Since it is of the Sultan, without a doubt, the best materials craft the suite. Whether it is the crystal decor of the bathrooms, bedroom, and living rooms (an additional $133 million was invested for the gold decor!) or the jet speed of 614 mph – the Boeing 747 will never let you down!!
#4. Flying Fourth –  Boeing 767 – 33A/ER – Roman Abramovich – $170 million
Speeding at 533 mph, this is an air castle!! Though he is officially known as the 'Bandit', the man has invested in his private jet to this extent. It boasts of gold fitted wall, a banquet hall, and a 30-people dining space area, to name a few amenities.
In fact, the Chelsea FC owner categorically bought the most expensive private jet, keeping in mind that it is to be used as a transport vehicle for his football team.
#Every castle comes with tight security. This customized chestnut integrated airbus has an anti-missile system!! Talk of the Russians!!
#5. Taking the Fifth – Boeing 747 – 8I VIP – Joseph Lau – $367 million
The real estate billionaire from Hong Kong has always believed in implementing his 'different-from-the-rest' technique. Whether it is real estate or a chartered airbus, his sense of customization has always made it to the headlines!
Speeding at 614mph, this is quite surprisingly armed with a state-of-art gym and also supports a wine cellar with myriad varieties of grape juices to sport!
For the record, Lau spent nearly $214 million to add to the onboard customization – from guestrooms to boardroom meeting space. Now, that's what the on-air life of a businessman looks like!
#6. Tweeting the Sixth – Gulfstream G650ER – Elon Musk – $100 million
This is one airbus worth tweeting about. Though not as up on the list as you thought the Tesla and SpaceX CEO's private air vehicle should be – this is one of the most expensive private jet in the world that the new Twitter Boss has!
With a maximum speed capability of 610 mph, this boasts amenities such as – 18 people seating area, one of the most advanced cockpits, and an enhanced environmental control system that allows better air distribution. What's more? It also has spacious galleys, lavatories, and crew rest areas.
#Just saying – Quite like Musk's 'out of the box' style – this allows a broader inflow of natural light when compared to other airbuses of the same breed! 
#7. Skyrising to the Seventh – Boeing 757 – Donald Trump – $100 million
Just like the ex-American President's personal sense of style and luxurious living format – this air vehicle is one luxurious carrier! Powered by Rolls Royce RB211 TurboFan engine, its set-up is fixated in gold and has the capacity to carry 43 passengers.
The catchy aspect of this powerful engine is that it can speed up the air vehicle up to 610 mph. It is also enabled with an inflight entertainment system, a sofa set with the Trump family name sewn into it (quite ott!!), and a sports room. Talk about luxury!!
#8. For the Eight – Bombardier 8000 – Bill Gates – $66 million
Another name that perhaps you have been searching for so long! How can someone from the Gates empire not have a private air vehicle? Well, here's the truth! Though it is supposed that he owns more than one, the Bombardier 8000 is twin-jet powered and has a seating capacity of 17!  Speeding at a whopping 716mph, this is not just one of the most expensive private jet but also one of the fastest!
#Just for the record – Celine Dion, too, owns one from the Canadian air stock! 
#9. Cruising to the Ninth – Bombardier Challenger 850 – Jay Z – $40 million
Ranking 9th on the list of the most expensive private jet – this Bombardier owned by JayZ and Queen Bey match their style to the T! It was a Father's Day gift from the wife's end that can not just seat upto 19 passengers but is also fitted with – double bathrooms, bedrooms, living room and kitchen (dare you to miss your home!)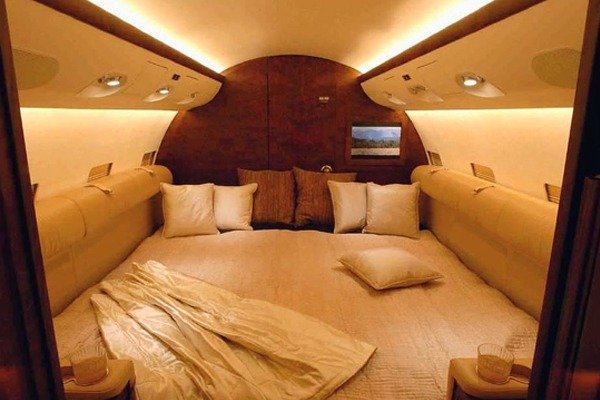 The air machine has a blingy JayZ monogram painted on it and flies at a speed of 520mph.
#10. Landing the Tenth – Gulfstream G200 Galaxy – Cristiano Ronaldo – $23 million
How can the list be complete if we do not have one of the world's best footballers make it to the list? He has a jet-set personality, and the twin-engine powered Gulfstream adds to his aura.
Originally named 'Astra Galaxy' – this offers a top speed of 560mph, with a range of 3910 miles. With the capacity to hold 8-10 people, it is a 2-crew machine that offers facilities such as – Wi-Fi, fax machine, entertainment amenities, and microwave, to name a few. Take a look at the picture below –
Flying up
How did you like reading all about the most expensive private jet and their owners? Are you a little jealous, or is it complete awe? Either way – in today's times, with a bit of capital that you invest, you may check out what flying a trip in these luxurious sky buses looks like. Multiple organizations allow a trip in these private airbuses against shelling out some good cash. You could check out some of these to gain better insight. Do you have some queries or comments? You may leave the same on this page.
Monalisa Mukherjee is a content writer and copywriter with close to 3 years of experience. She has written for websites like Biography Talk, Contour Cafe, He And She Fitness and Fiction Pad. She is currently associated with a noted Digital Marketing Agency and specialises in writing articles for travel, entertainment, cooking, celeb, lifestyle, tech, health, fashion and film news.