Search for the best gluteus medius exercises? In this post, we will learn some essential aspects of the gluteus medius and exercises that can keep it strong and healthy. People often report the pain and weakness or pain in this vital muscle of the body. Regular exercise targeted at this muscle can help in relieving the pain and strengthen it to the core. There can be multifaceted issues that can evoke the problem to this muscle; we will discuss this in this post. Besides, you can also find step-by-step procedures to perform the gluteus medius exercises to keep it strong and healthy. Learn more! 
What Is Gluteus Medius? 
Gluteus Medius is a crucial muscle that plays a crucial role in the hip movement. It is one of the three muscles that originate from the ilium and sacrum that together form the buttocks. In addition to the hip movement, it also plays an important role in maintaining balance and stability. Furthermore, it has a significant role in managing the biochemistry involved in the process. You need to keep it strong and healthy. If not, you may have to face multifaceted issues caused due to the weak Gluteus Medius. 
A large number of people, who spend most of their time working on their desks, become prone to weakened gluteus medius muscles. It can arise from a number of possible bodily ailments. The list may include altered posture of the pelvis and other issues related to the balance. Moreover, you may experience trouble performing all the activities that require the use of these muscles. 
Possible Reasons Behind The Weakness In Gluteus Medius 
After learning the definition and function of the muscle, let's dig deeper to find what makes the gluteus medius exercises an imperative thing. They are the issues that drive the muscle weak. One of the most apparent reasons behind the weakness of this muscle is lack of activity or a sedentary lifestyle. Some of the most evident reasons behind the alleviating muscle strength are stated in the below-given list: 
1: Sedentary Life 
A detrimental lifestyle with no physical workout and sitting most of the time at a desk can evoke problems with the muscle. To get rid of this problem, you need to do regular gluteus medius exercises to keep the pain and other physical ailments at bay. 
2: Standing With Weight Shifted
Standing tilted is a common fallible practice that causes problems to the hips. When you stand in a position when your pelvis is tilted to one side, it causes excessive exertion to the hips. When you remain in the same position for a longer time, it starts causing pain and trouble to the muscle. Also, it causes the muscle to lengthen up, evoking issues, such as decreased stability of the hips and pain in the lower back. 
3: Sleeping On Your Side
Everyone has their own sleeping style, and people change their posture while sleeping as well. However, when you sleep on your sides, having the top leg crossed over the bottom leg can cause stress on the muscle. When these sleeping positions remain for a longer time, you may have to face the intimidating pain in your pelvis. 
4: Sitting Long With Legs Crossed
When you sit with both your legs crossed, it can have the same effect as standing or sleeping for a long time having your legs in the crossed position. It can cause the muscles to enlarge and make them weak. If you have a habit of setting your legs crossed, you need to change the legs every now and then. 
Exercises To Strengthen The Gluteus Medius
Now that we have gathered the proper knowledge, let's check some of the best exercises that can make your buttock muscles strong and healthy: 
1: Clamshell
Clamshell is a great exercise for strengthening your hips and legs. When you perform this exercise, your legs and hips together imitate the look of a clamshell. This exercise works magic when it comes to stabilizing your pelvic muscles. Furthermore, you can tone your glutes by mastering this workout related to the gluteus medius. Moreover, you can keep the back tension and injury threats at bay with the regular practice of this exercise. This is ideal for the people who are associates with the sports where they need running, such as tennis and soccer. 
2: Monster Walks
If you are perplexed by the term, hold on! If you are wondering how to do the monster walk, it's very simple. Anyone can do this exercise with the utmost ease and can activate your hip abductors. It is highly recommended to the runners to strengthen their gluteus medius and to relieve its pain. This exercise involves the efforts of the internal and external rotation of the hips to give it more strength that you can't achieve alone with running.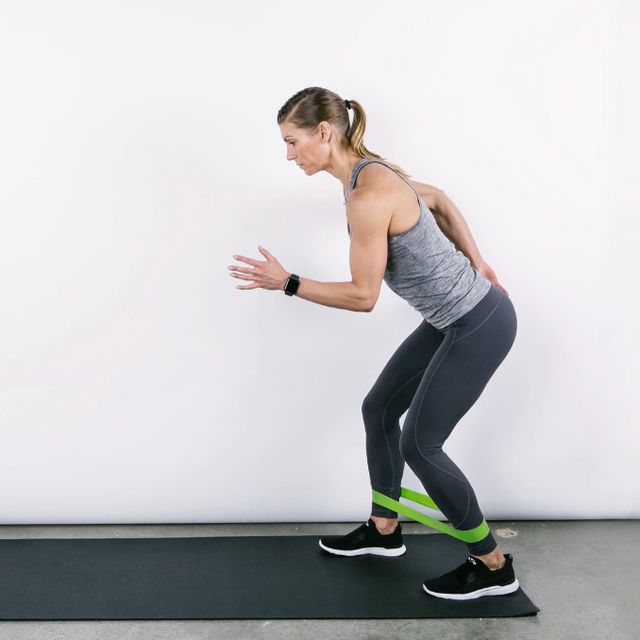 3: Lateral Band Walks
A lateral band walk is one of the best gluteus medius exercises that can help you in making the muscle more strong and active. It may look a little strange to see or perform this exercise. However, the results of this workout focused on improved pelvic movement and strength are awesome. Besides, it integrates other crucial muscles that can stabilize the pelvis. The list may include hip, foot, and ankle. Not only does the pelvic strength, but it makes the whole body more efficient and competitive in performing a task. 
4: Isomeric Single Leg Wall Lean
Isomeric single-leg wall lean is an impactful exercise that can help you with a number of bodily ailments, such as lower back pain, medial knee pain, gluteus medius injuries, and several others. You may also include the gym ball to make this exercise more effective. 
Takeaway! 
Reading this post until the end, you can learn about the gluteus medius exercises and how they can help you in strengthening and stabilizing the pelvic movement. However, it is important to do these exercises carefully. If not, you may have to bear its detrimental effects. If you are a health freak and love reading posts about health and workouts, visit our blog section to explore more.