When you want to whip up something fast on a weeknight, a plate of succulent pork tenderloin can be your go-to option! Seared and roasted in the oven, its leftovers can be stretched all through the week – at times tucked into your sandwich or maybe reheated for dinner with a bounty of boiled veggies. However, one of the significant issues one may have while reheating the pork is that it becomes too dry and chewy. Hence, you need to know how to reheat pork tenderloin in a way that its moist and meaty flavor is retained. Your search ends here!
This article will provide you with insights about reheating the tenderloins – whether in an oven, an air fryer, or in many other ways – ensuring that the tenderness of the meat is preserved in the process. 
How to reheat pork tenderloin keeping it moist? 
In this section, with the assistance of cooking experts – we have charted out a couple of ways to reheat the pork tenderloin while keeping it as juicy as ever. Let's check that out – 
Note: All the measurements are as per US standards. 
When reheating the frozen pork tenderloins, you must thaw them first.   
Process 1 – Reheating in the microwave 
To microwave the pork tenderloin when you are reheating it for eating is the fastest and easiest way. For this, you will have to – 
Step 1 – Here, you will have to slice the tenderloin into pieces. 
Step 2 – Place them on a microwave-safe plate and drizzle them with either cooking juices or the usual stock. 
Step 3 – Cover it with a paper towel before putting it in the microwave. Set the microwave to 'Medium.' Heat it for 30 – 60 seconds (as per your requirement). 
Try warming 3-4 slices at a time to prevent overheating. 
Process 2 – Reheating in the oven 
Are you looking to check out how to reheat pork tenderloin in an oven? There are some steps to follow – 
Step 1 – Preheat the oven to 325 degrees F or 160 degrees C. 
Step 2 – Sprinkle copious amounts of cooking juice or stock over the pork tenderloins. Wrap it in foil and then put it on the oven basket. 
Step 3 – Heat it for 10-20 minutes. Make sure to set the temperature in a way so that the internal temperature stands at 165 degrees F or 75 degrees C. 
The meat, after heating, is ready to be served. 
Process 3 – Reheating in an air fryer 
When reheating pork tenderloins in an air fryer, you must ensure that the tenderloins are sliced into 1 inch. Also, it would help if you wrapped them in the foil before you placed the same in the basket of the air fryer. 
Step 1 – You need to set the air fryer at 250 – degrees F or 120 – degrees C. 
Step 2 – Sprinkle the pork tenderloins with either stock or cooking juices. Allow the juices to seep it. 
Step 3 – Wrap the pork in aluminum foil and place them in your fryer basket. 
Step 4 – Heat the tenderloins for 5-10 minutes. Serve it.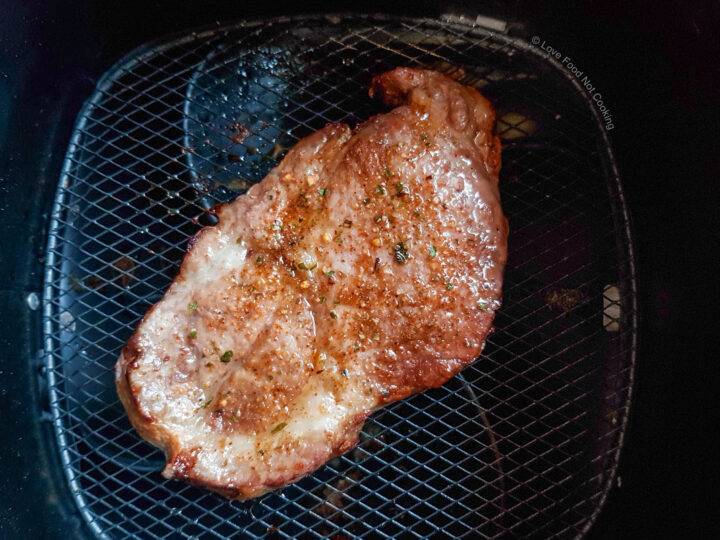 Process 4 – Reheating in a frying pan 
For those unversed in the reheating process of pork tenderloins in a frying pan, in this section, you will get to see how to reheat pork tenderloin in a frying pan – 
Step 1 – Pick either a non-stick frying pan or a skillet. Ensure that either of the pans has a fitting lid. You will need it. 
Step 2 – Add any cooking oil you usually use (one tablespoon is good enough. You may add half a tablespoon later). Warm it at medium-low heat. 
Step 3 – Place the slices at some distance from each other. This should take almost 10-15 minutes to complete. Flip the pieces every 2-3 minutes to ensure the slices are not overheated. 
Process 5 – Reheating in a slow cooker 
When you have a slow cooker at home, you will be privy to curating any of the slow-cooker easy recipes. But did you know you could also use a slow cooker for reheating pork tenderloins? Here's the way out – 
Step 1 – You will find that the slow cooker will have – low, warm, and high settings to opt for. When you are looking to reheat the tenderloins, it is better to set the cooker or crock pot to the 'Warm' settings. 
Step 2 – If you are using frozen tenderloins, you must thaw them. After that, place the pork in the slow cooker and add water and instant gravy (1/2 cup each). 
Step 3 – Put the lid on top and set the timer to 10 minutes (minimum). Normally, this is the time for reheating the pork. If needed, you could increase or decrease the time as per requirement. 
Process 6 – Reheating in a steamer 
Want to learn how to reheat pork tenderloin? Here's the set of steps that you must follow – 
Step 1 – Slice your pork to room temperature once it has thawed. 
Step 2 – To set up your steamer, you must fill up its lower compartment with herbs and stock liquid. You may also use water, but it is better to use flavored liquid since that will infuse the meat with delightful flavors. 
Step 3 – Take it to a boil. Once it is boiling, spread out the pork slices on the basket and warm up for 3-4 minutes.  
Step 4 – Do not leave the meat in the steamer for too long since that would dry it out. Also, turn it over after a minute or two to prevent burning. 
You can pick out any of the methods that suit your taste or feels easy to follow. You will definitely get positive results when you follow either of these procedures.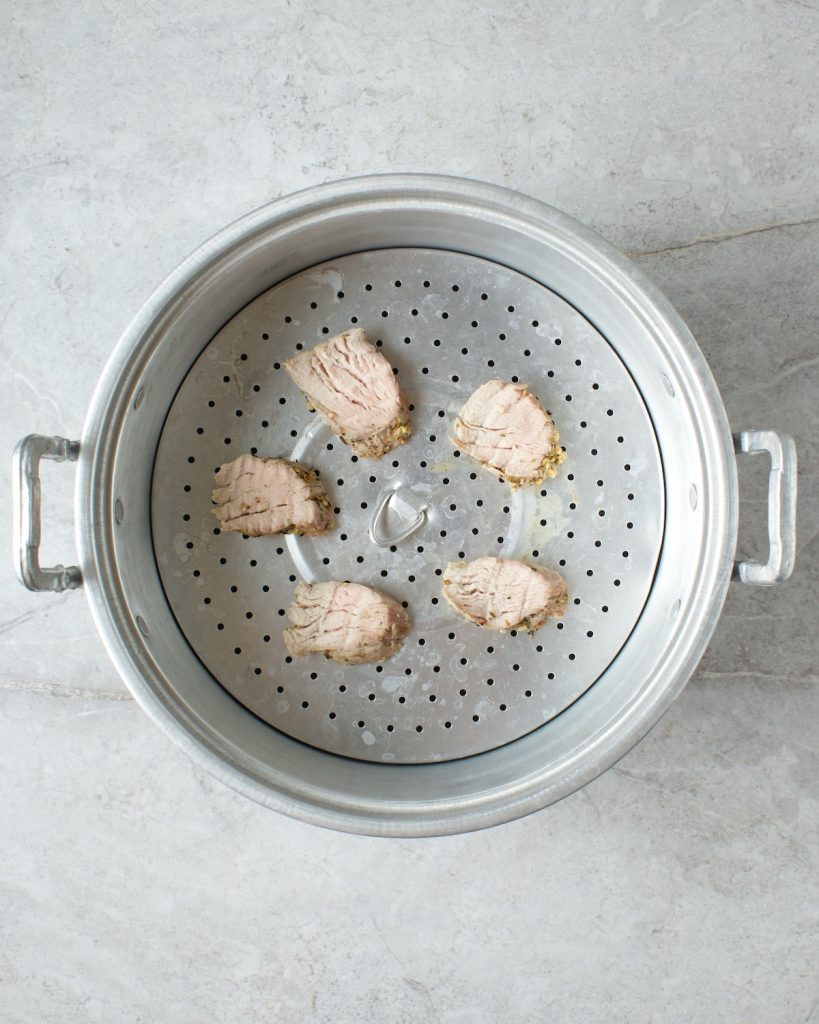 How to store the tenderloin? 
Once cooked, ensure that you do not leave your tenderloin out for more than 2 hours since that could spoil the meat. If your meat has been out for over 2 hours, you must dispose of it.
Also, the maximum time for storing the pork tenderloin is 3-4 days. Wrap it in a plastic cover or aluminum foil and either keep it in the colder part of the shelf or at the bottom shelf. The colder it stays, the better.  
Additionally, when storing the tenderloin, store it as a whole since that will prevent drying out vis-a-vis when stored in pieces. 
How to freeze pork tenderloin? 
Normally when people are scouting for how to reheat pork tenderloin they also tend to ask if the tenderloins can be frozen and, if so, then how to. To answer those queries – for starters, pork tenderloins can be frozen for sure. That too, up to 4 months (maximum). You can either slice it and freeze or freeze it as a whole. 
As far as knowing how to freeze the pork tenderloins, you must – 
Cool it down to room temperature and leave the tenderloin as a whole. It is better not to slice it since that will turn the pork drier. 

Do not leave it in the gravy since that will spoil the pork. But do sprinkle with a bit of stock or cooking juices to keep it moist. 

Though you can either use plastic wrap or even aluminum foil but, cooking experts suggest that – first, you must wrap it in plastic and then cover it with another layer of aluminum foil. You may also use a vacuum seal. 

When wrapping, keep the air pockets away. There must not be any air trapped in it. 
How to thaw pork tenderloin? 
How to reheat pork tenderloin that has been frozen? For starters, you will have to thaw it, or else it may cause an overcooked exterior with a cold pork center. You can either thaw it overnight in the fridge or use the defrost setting of your microwave.  
Last thoughts 
Now that you are better aware of how to reheat pork tenderloin in multiple ways so that the ripeness of the meat is not lost in the process, you can pick any of the techniques mentioned above and follow them same. If you change any step in the process, do share and update us on the same. Looking for more exciting recipes like this? Keep checking out the Contour Cafe website.
Monalisa Mukherjee is a content writer and copywriter with close to 3 years of experience. She has written for websites like Biography Talk, Contour Cafe, He And She Fitness and Fiction Pad. She is currently associated with a noted Digital Marketing Agency and specialises in writing articles for travel, entertainment, cooking, celeb, lifestyle, tech, health, fashion and film news.