With the winters bidding you a farewell, it is time to welcome the summers and prep up your home accordingly. Amongst a host of other things, cleaning your hearth is both time-consuming and crucial. The fact that the soot could give rise to multiple respiratory issues is one thing. Another problem you have to deal with is – choosing one of the following, ash, vinegar, or baking soda cleaning spray to shove off the extras from your fireplace. So, how to clean fireplace glass with either of these products? This article will detail it for you –
Here's how to clean it up –
How to clean fireplace glass in various ways?
In this section, you will get an idea of the DIY processes to clean the hearth glass. Here's how to do the needful –
  1. Try the Vinegar hack
If you are looking for a hack or two about how to clean fireplace glass, the vinegar hack ranks first. You will have to use white distilled vinegar with water. Ensure that you do not mix vinegar with any other household cleaning solution since they do not blend well.
You will have to combine white distilled vinegar (1 cup) with warm water (3 cups). The measurements used are as per US metrics.
If you wish to enhance the strength of this cleaning solution – either mix cornstarch or alcohol into this blend. Do not add both products together or mix them with any other household cleaning solution since they do not blend well.
 When you add cornstarch to this combo – use 1 tablespoon. If you are using rubbing alcohol, use a quarter of a cup.
Pour this solution into a spray bottle and spray it onto the surface. Let it sit for 30 minutes. Then wipe the surface off. Keep repeating until it becomes squeaky clean.
Be assured – this hack is one of the most useful ones!
  2. Baking soda – warm water combo always helps
You might have heard that baking soda is a good cleansing solution. It is – no doubt. Do you want to know how to clean fireplace glass with a baking soda solution? Here's how to do the needful –
Combine baking soda and water to form a paste. You can take (2 cups) of baking soda and (1/2 to 1 cup) of water to create the paste.
Do not add the water at once. Add a little, keep stirring, and then keep adding the water to finally form a paste.
Take the paste and apply a thick coat of it on the fireplace glass. Keep it for 30-45 minutes, and use a microfiber cloth to remove it gently. Keep repeating until it is clean.
   3. The ashes-ashes technique
If you have tried the above DIY hacks and yet are looking for another way how to clean fireplace glass, 'using ash to cut down the ash' is a good technique.
You will probably not need to get anything from outside (apart from lye, if you do not wish to make this concoction at home) since you could use the ash that you cleared out of the debris for the same.
You will have to blend the ash with water to create the lye (cleaning solution). 2 cups of ash mixed with 1 cup of water.
Take a microfiber cloth and dip it in this lye. Then clean the fireplace glass by moving it in circular motions.
You will have to keep repeating this for a minimum of 3 times before you notice any visible change. If required, you might have to do it more times until it is clean.
#You must note that – multiple manuals may also ask you to apply the razor trick to clean your fireplace glass. However, when you clean with a razor, there are high chances that despite you being extra careful, you might leave a mark or two. It could also lead to the breaking of the glass. Hence, steer clear of this technique.
What to remember before kickstarting the process?
Now that you know how to clean fireplace glass, it does not mean that you will start the cleaning process immediately. There are a couple of steps you have to follow before starting the cleaning –
Step 1 – Shovel out the excess ash
This is the first step to begin with. Either use a spade or a shovel to take out the excess ash and debris. After that, clean the soot using a brush and dustpan. Once that is done – layer the floor of the fireplace to catch the debris as you remove the glass and clean it. If you have completely removed the debris and soot, with some flickers left, it is best to use a vacuum cleaner to remove the same.
Step 2 – Keep the fireplace grates aside
This is the last thing you must remember. You will have to uninstall the fireplace grates (to remove the glass) and place them outside (preferably on a newspaper), and clean them with an oven-cleaning solution. Install it – once you are re-setting the whole fireplace.
Step 3 – Remove the glass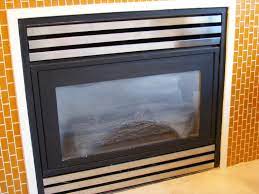 Before you clean it, you will have to remove the glass. For that, you will have to ensure not to light a fire 12 hours prior to the cleaning process. Either follow the user manual, or you can remove the glass after uninstalling the grates. Put it safely on a large towel.
How often must you clean the fireplace?
If you are a first-timer or are not aware of the specifics – here's enlightening you. Technically, the number of times you must clean the fireplace depends on – the frequency of the usage and the type of wood. As you know, already that wet wood will 'smoke' more compared to dry wood. Hence, depending on these two factors, it is advised that you clean the hearth twice a year. You could use any of the DIY methods to clean out your fireplace glass.
The bottom line
Now that you have better clarity about how to clean fireplace glass and that too within which time period, it is best that you do the needful at the earliest. As already mentioned, a dirty fireplace could lead to multiple health and respiratory ailments in the long run. Therefore – you must be cautious of the same, and while cleaning use proper gloves and mask to safeguard yourself.
For more cleaning tips – keep browsing this website.
Monalisa Mukherjee is a content writer and copywriter with close to 3 years of experience. She has written for websites like Biography Talk, Contour Cafe, He And She Fitness and Fiction Pad. She is currently associated with a noted Digital Marketing Agency and specialises in writing articles for travel, entertainment, cooking, celeb, lifestyle, tech, health, fashion and film news.