You probably cannot figure out where you kept the magazine whose latest cover story was about Hawaiian fashion making a comeback. You remember that Rihanna was sporting the trend in her flowy dress, and Bill Murray was all out in his 'aloha' shirt, but what about that section that detailed the Hawaiian outfit for women? After all, you do need references for the same for the fashion article that you are writing. Well, there's nothing much to worry about! This exhaustive guide will provide insights regarding the Luau-themed parties and the look to master there!
#Before reading this article, remember that not everyone prefers loud colors, even in Hawaii. At times – you do need to keep it subtle. Go on then –
Choosing the Hawaiian outfit for women
Open up news articles from any of the latest fashion weeks that are taking place – Luau-themed parties, Hawaiian-themed outfits, and very recently, the coconut bra are the talking points. In fact – Paris Fashion Week dedicated a section of its summer collection to the Hawaiian outfit for women. So, what are those outfits that seem to turn cool into hot this season?
Muumuu 
The tropical climate wishes something breezy to go with it, and nothing can work its magic like a muumuu. They are perfect for Luau-themed parties, and the prints stick mostly to descriptive blooms. Not quite in tune with the maxi dresses – they are like a loose cloth hanging from the shoulder (thanks to the gentle weather of the beach). If you want to categorize it – they could land somewhere as a cross between an oversized T-shirt and a robe. Available in pastel hues – they are feathery and allow the body to play with the beach air (or even the party air in your Luau theme party).
Maxi Dress 
The usual floral Maxi dress is a favorite – in Hawaii or in any part of the globe.
As one of the top choices in terms of Hawaiian dressing for ladies – you can alter this look by going in for a combination of crop top and maxi skirt in warm pastel tones (thank me later!). If you are looking for some more gloss – surely you can choose floral printed maxi skirts and pastel-hued crop tops to match the Luau theme.
#You could very well drape a Kihei over your look or tie it around your lower navel and add some blooms to the same. 
Tropical-themed shirts – 'Aloha' shirts are back 
The adverts and posters have almost made the Hawaiian outfit for women – a poster for neon shades. However, the traditional 'aloha' shirts are mostly available in warm earthy tones – orange, deep blue, rich green, rust red), and their specialty rests in their loose nature with bold prints. For the uninitiated – this was originally men's attire (the Palaka shirts), but now – they are curated for women as well – that they can match with slacks and khaki shorts!
Mostly – floral adornments are part of this attire! You can choose any random tropical blooms (flamingoes, jasmine, or a stack of Medinilla) – just make sure they contrast with the tones of your attire.
Hula skirts 
Since Hawaii always presented a benign climate for its residents – therefore, when one considers Hawaiian outfit for women – the pa'u (basic skirt) was part of their basic clothing. Upgraded to the hula skirts or the grass skirts – these are traditionally made of ti leaves or bark of the hibiscus tree.
#If you plan to try one out – make sure that it is specifically for a costume party and not for an actual Hawaiian event. 
These are some of the foremost choices – when it comes to female clothing with respect to the Hawaiian domain. The prints stick to mostly floral, and if at all other prints are used – the fruit (pineapple prints are very common) and the tropical prints (seaside and coconut tree prints) are the alternatives.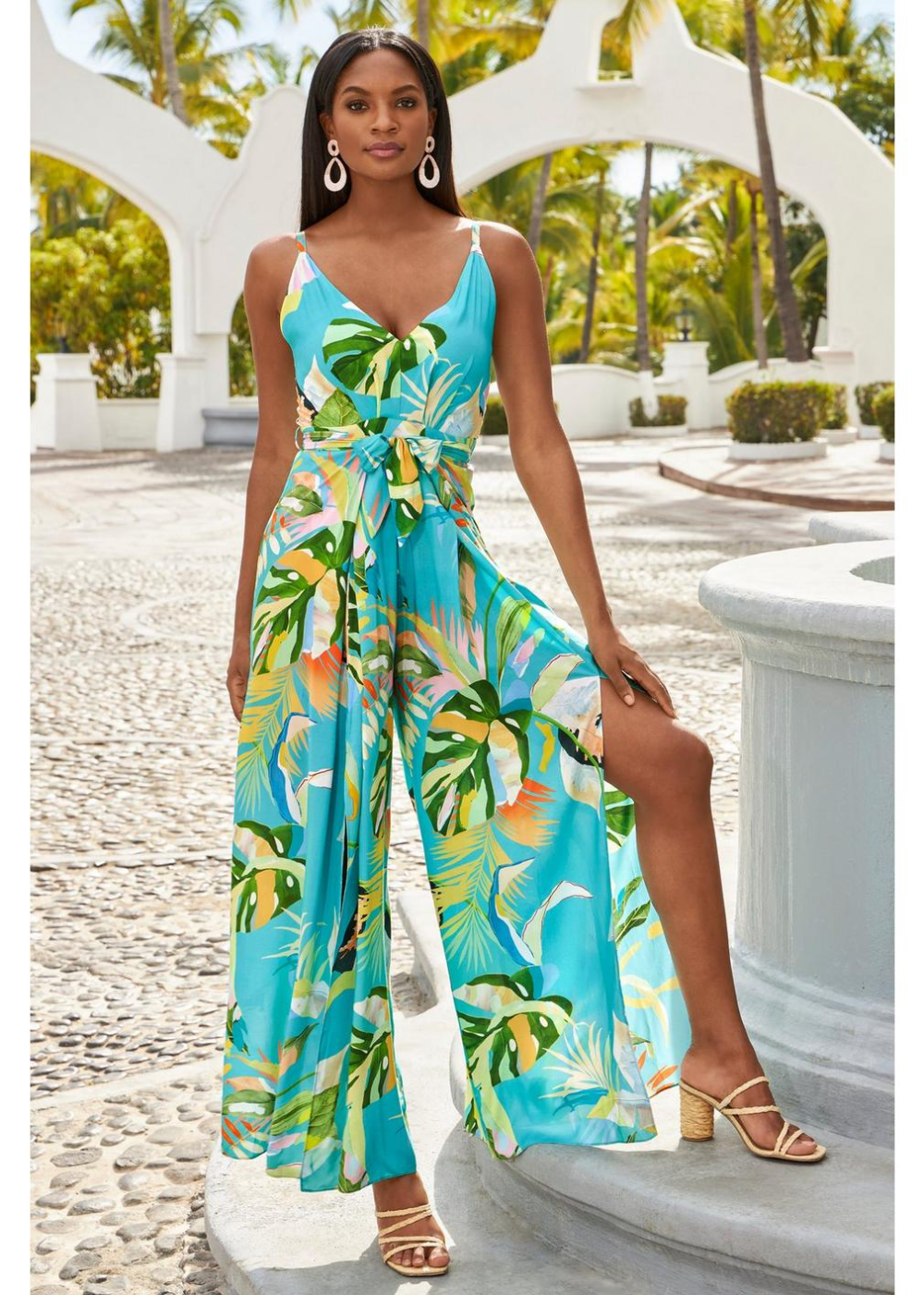 #Know it for a fact! Be it any of the above-mentioned Hawaiian outfit for women – always walk the strides with flip-flops! Heels are not for this range of outfits. 
Some accessories to go with it
Hawaiian outfits – for both genders at times intermingle. As you see – the basic nature of this style is – cool and casual. Hence, when it comes to accessorizing – topping up a breezy dress with a pair of diamond drops is not the ideal format (though in other fashion trends, it might be). So, what are those salient accessories that you can dangle with Hawaiian outfit for women?
The resources are – a puka shell necklace, Lei (the Hawaiian adornment of blooms), and Lauhala hats (traditional farming hats). You can always tuck in some flowers behind your ears or adorn your braid with the blooms.
How has the dress code changed under imperial forces?
With the sudden comeback of the Hawaiian style, did you ever wonder – how the dress code might have changed in all these centuries? It is no secret that the Hawaiian islands had imperial influences from the US and the Japanese domain. So, what was the result of that cultural intermingling?
Apparently, it may seem that the Hawaiian culture is all about the hapa hula girl who graces the brochure cover (actually a Tahitian dance) – and 'aloha' shirts (though very important part). However, the dress code of Hawaii, with time, has become quite conservative (the Christian missionaries molded the women to cover their sexuality). The traditional malo (loincloth) or the kapa was vehemently replaced by the current set of trendy 'aloha' shirts (origins rest in its cut out from Japanese kimono fabric). Thus, it is quite surprising to note that the biggest Hawaiian trend, 'aloha' shirts, were cut off from female clothing.
Back in the 1920s – America was fuddled by the evils of the Wall Street Crash, and Hawaii provided the respite. With more of them and the Japanese seeking refuge in these tropical domains – the outfits were becoming more conservative. Thus, what you see today as a Hawaiian outfit for women is a modified version of its original casual range.
What you must not do with your outfit
It is a common misconception that when in Hawaii, you can choose anything to wear and do anything. However, you must know that you cannot constantly experiment with looks. There are some standards –
Choosing rigid fabrics and portraying a set of ultra-neon looks are the two things that you must avoid. Yes, it is understood that Hawaiian themes are all happy and glossy – but the last thing that you want is to go overboard! Keep that in mind while choosing the Hawaiian outfit for women.
Dress up well
Which of the above-mentioned Hawaiian outfit for women would suit your taste? In case you wish to try out any of the outfits mentioned above, do not forget to add a sparkling smile to your outfit. If you did like this piece – do leave your comment behind. We will keep bringing more such posts for you! Aloha, oe' Aloha oe'! 
Monalisa Mukherjee is a content writer and copywriter with close to 3 years of experience. She has written for websites like Biography Talk, Contour Cafe, He And She Fitness and Fiction Pad. She is currently associated with a noted Digital Marketing Agency and specialises in writing articles for travel, entertainment, cooking, celeb, lifestyle, tech, health, fashion and film news.