Were you, too, under the impression that Pinehurst would offer you nothing much but a golfing experience? You are highly mistaken. Officially dubbed as the 'Home of American Golf,' – Pinehurst, North Carolina, has more to offer than its range of golf courses. There are myriad things to do in Pinehurst, NC, if you know which areas to scan. Not sure? This write-up will help you.
In this content – you will find specific details related to this North Carolina domain and some of the usual activities you may carry out here. Also, what if you are done with this and wish to check some areas nearby? There are suggestions for that as well –
Check out the things to do in Pinehurst, NC
North Carolina offers an exquisite blending of rural and cosmopolitan life. An hour's drive from Raleigh, this is a unique place hosting 17,000 people – that offers the benefits of an urban domain and the scenic pleasures of a rural format.
With some tiny resorts and galleries to sport, as a tourist, you can put this place on your list of weekend getaways –
#1. Relaxing with modernity in the lap of nature 
Amongst the first things to do in Pinehurst, NC – is retreating back to the lap of nature. For areas in and around Carolina, Pinehurst is a great weekend travel resort. What is amazing about this domain is that you enjoy some of the best spa services within the domain of nature.
Book the relaxation services at the earliest to categorize and customize them as per your taste and requirement.
#2. Some time to update your literal knowledge
Do you like to read books? You may well include a visit to the Given Bookshop and Outpost in your things to do in Pinehurst, NC.
This is a sponsored library bookstore of used books backed by the Given Memorial Library – the proceeds of whose funds go to their charitable activities.
Even if you are not a huge fan of reading books, this is a historical site to visit. Also, this is one of the few libraries that allow the passing of old books. Hence, you lend a note to saving their nature.
#3. How about time-traveling into the past? 
Do you want to revisit the turbulent history of America? Pinehurst is a treasure trove for the same. Standing strong to some of the oldest constructions on this end of Carolina, you would love to take a look at – the Carthage Historical Museum (covering 200 years of history) and the Malcolm Blue Farmhouse to get an idea of the lives of the Aberdeen-Pinehurst citizens back in the 19th century, McLendon Cabin and Bryant House (to get a glimpse of the life of the 1970s), and Taxidermy Hall of Fame to name a few.
Done with the places mentioned above? Then it is time to explore a little more. This little area is far from the throes of the 'rat race,' and you can partake in one of the historical tours by foot to explore the remaining historical nuances of the village.
#4. Take a walk at the Rassie Wicker Park 
What's a trip if you do not enjoy some community activity? You may very well add a casual visit to Wicker Park to your list of things to do in Pinehurst, NC. Developed as a community park, this area has – cycling, walking, soccer, hockey rink, and restroom facilities.
In fact, many elderly residents of the area go for their regular walks in this park and host small occasions. Ask for their permission and become a part of their celebration.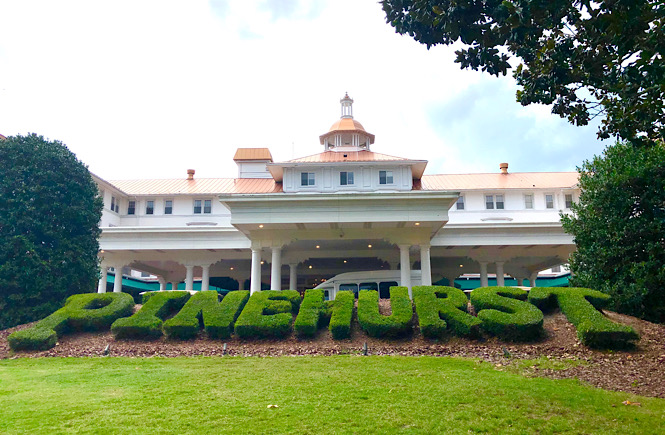 #5. Live horse racing with a glass of beer is a great retreat 
If you are at Pinehurst – do not at any cost miss out on – McLendon Hills Equestrian Centre. Apart from offering lessons on horseback riding, this has a plethora of the army's oldest friends that you may take a tour of (do consult for a prior appointment).
When you are done with that and are looking for some real action-packed powerplay – there's nothing beating the charm of touring the Pinehurst Harness Track. The North Carolina community has included this in its Register of Historic Places as a landmark harness racing track since 1992.
#6. The Sandhill Horticultural Garden is a must visit 
Literally, wish to be in the arms of nature? Plan a 3-4 hours trip to the Sandhill Horticultural Garden, which welcomes you within its domain of -conifer, pine, and woodland gardens. The walking trails present a chance to learn some of the quirky plant details while the landscape that has been cultivated especially works as a healing site for one and all!
#7. What's a trip without a gallery to explore 
When you visit any of these solitary destinations – quite far from the hustle and bustle of the world – make sure that you visit a gallery. The Broadhurst Art Gallery and the Campbell House Galleries are two places that will pause your breath and allow you a view of their gorgeous presentations!
Featuring local, national, and at times, works of international artists, they are a true satiation to your soul. After all, you do know you have to leave this idyllic domain to get back to the realities of life!!
Special Mention: The hub of golfing
In your list of things to do in Pinehurst, NC – you cannot miss out on the golfing sessions. Lastly, Pinehurst comfortably rests amidst Moore County with 40 golf tracks. It has been highlighted since the time of its inception by J.W.Tufts for multiple reasons (golfing at times).
But the 1901 North and South Men's Championship and the establishment of Pinehurst Golf Club in 1903 cemented its position in the domain of golf playing. Since then, Pinehurst has not just seen some of the best competitions in golfing but also some of the best golfers have landed a hole there.
Visitors may use clubs and playing areas while they are on a trip to Pinehurst to get a first-hand experience of this feature. Do not miss out on this experience.
Which time is best to visit?
Now that you have the list of things to do in Pinehurst, NC, the next thing that you want to know is – which is the best time to visit this quaint little place.
Ideally – the months between March to May are the perfect time for a trip to Pinehurst. With the warm summers of July approaching, you could very well spend your spring break within the natural seams of Carolina!
However – if you are planning a golf practice or if it is a categorical golf tour – October through December is the correct pick. But most of the golf ranges or clubs these days offer a round-the-year golfing opportunity for professionals (and at times for upcoming players). You must consult the respective golfing courses and arenas for detailed information.
Planning a trip?
Are you excited about the things to do in Pinehurst, NC? Then why wait? Check out Pinehurst's quaint cottages and hotels and figure out which suits your budget. Plan the itinerary as per the details presented above and gear up your car. Have a memorable trip, and let us know about your experience in the comments section.
Monalisa Mukherjee is a content writer and copywriter with close to 3 years of experience. She has written for websites like Biography Talk, Contour Cafe, He And She Fitness and Fiction Pad. She is currently associated with a noted Digital Marketing Agency and specialises in writing articles for travel, entertainment, cooking, celeb, lifestyle, tech, health, fashion and film news.