With Spring Break on and the toasty summers slowly making its way to the South Central US, San Antonio – officially the Culinary Capital of Texas (with the tag of the Creative City of Gastronomy by UNESCO) – is a bustling city with too many attractions. Hence, if you are looking for a handful of things to do in San Antonio with kids – let's tell you beforehand, from its buried past to the iconic art presentations to its delicious culinary offerings, you will have too much on your plate. 
This post has been curated particularly with kids in mind, about the places to visit and activities to pursue in San Antonio. So, before you book your tickets for Texas, take a quick look – 
What are the things to do in San Antonio with kids? 
Let's explore this city with kids in tow – 
1. Six Flags Fiesta Texas
This is San Antonio's outpost of the chain of the famed amusement park. Starting from roller coasters to snake rides – this is a Mexican-fiesta themed park, that is perfect for family entertainment. 
It has 6 distinctly themed areas within the park itself 

The biggest attractions are the rides – BATMAN, Boomerang, Bahama Blaster, Spinsanity, Pandemonium and Fireball 

The Water Bay Park is a must-ride to splash in the summer 

If your child is the quiet one – opt for ladder climb, balloon pop or ring toss 
2. SeaWorld San Antonio 
When you have a kid who's a fan of aquatic animals – then you will have to put a visit to SeaWorld while planning out things to do in San Antonio with kids. With a chance to not only view the diverse marine life, but this marine park also offers your kids a variety of marine shows and rides. 
There is a roller coaster facility available that allows the kids to see the sea orcas's upfront and meet the cast members of Sesame Street

There are multiple kids' rides you can opt for – from splash-drop coasters to a set of camelback 

You cannot miss the Rio Loco ride if you have gone visiting with the kids

The park hosts multiple marine shows to give you an insight into the life down in the blue 
3. The Amazing Mirror Maze 
Does your kid love solving puzzles? Take him/her to the Amazing Mirror Maze! Coming up with new answers every time they go deeper into the maze – this twisty glassy space is the one to check out! 
Apart from the mazes, you can check the Funny Mirrors section, which distorts images funnily. Try this with your kids and see them laugh out loud! 

If you have the curious little one – try the Vault Laser Challenge with the kids. 
4. San Antonio Zoo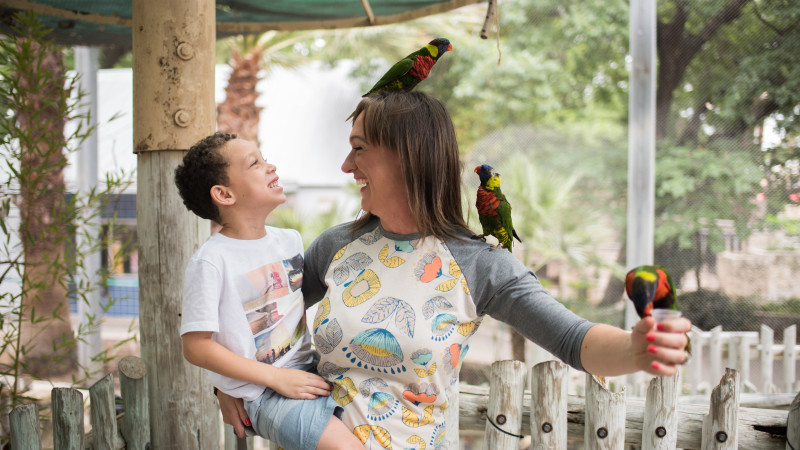 Whenever you look for things to do in San Antonio with kids, or any other place – you cannot miss out on a zoo trip. The colossal Brackenridge Park is the base of the San Antonio Zoo. Featured in some of the most famous travel shows – at last count this zoo had 750 species! From zebras to alligators, the kids will get to see a plethora of animals on their visit. 
The Tiny Tot Nature Spot will allow your child to try out numerous activities like climbing and crawling. 

There's a carousel and zoo train – if your kids want to take a quick tour of the zoo
5. Natural Bridge Caverns Discovery Tour 
Are those kids of yours nature lovers? Then a discovery tour at the Natural Bridge Caverns is what you may opt for! One of the most extensive caverns located 180 feet deep into the ground – this cavern dates back to the Cretaceous Period. 
When you are done exploring the cavern, check out the Canopy Zip Lines, Sky Tykes and the Canopy Explorer Ropes Course 
6. The Alamo 
If you are a history buff and love spending time in exploring the ancient sites of any new place, the Alamo at the heart of this city is a must-visit! Originally referred to as the Mision San Antonio de Valero, this is a key part in the history sheet of Texas and touring it is one of the must-do things to do in San Antonio with kids.
You can always take a walk along the Riverwalk area that would lead you to the fortress compound of the Alamo. In fact, when you do so, you get a glimpse of the history of how the small Texas troop defeated the mighty Mexicans and regained their independence. 
7. The DoSeum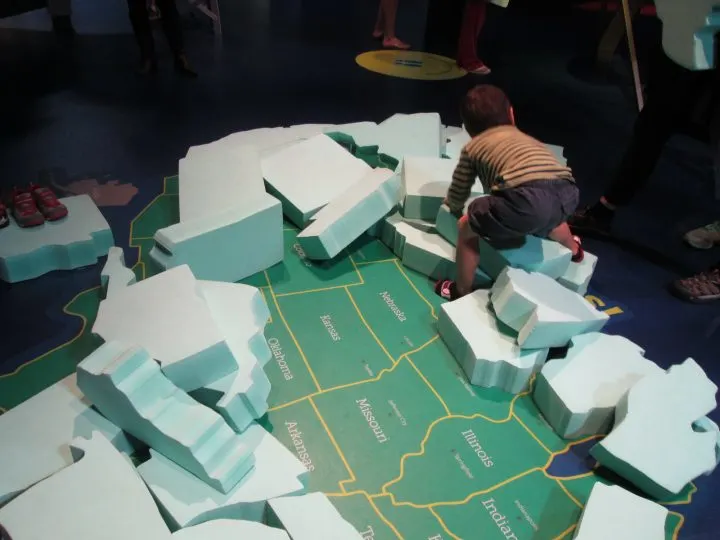 What's a trip if you are not visiting a museum? DoSeum is one of those cutting-edge museums in San Antonio that is spread over 39,000 km square featuring a host of magnificent sites such as – Innovation Station, Little Town, Spy Academy, Explore, and Sensations Studio that your kids will love! 
This museum categorically focuses on the 'learning by doing process' wherein the parks and games are designed to promote curiosity amongst children. The games are designed to inculcate scientific concepts within children in a gaming format. 

Additionally, it has camps and programs, and specific trips that are categorically STEM directed to assist and enhance the learning process of the kids. 
8. Witte Museum 
Another of the things to do in San Antonio with kids is to take them to another museum – the Witte Museum. Situated in Brackenridge Park, this is a science-hub-like park that kids cannot afford to miss. Though the primary focus is on local wildlife and the histories associated with their evolution, a major section of this museum is dedicated to the topics of ancient civilization and deals with the human history of Texas. 
What's more – there is an area dedicated to the mythical creatures and history associated with them. Clearly, this is a destination that has to be on your vacation! 
The HEB Body Adventure domain extends over a wide area and teaches kids and families about health and fitness. In fact, the area is designed categorically to ensure the kids check their energy scores and heights and also take home the POWERprofile. 

If you look around more – you will discover a famed Huichol shaman artist Jose Benitez Sanchez's yarn paintings. 
9. San Antonio Museum of Art 
Too many museums on your vacation list? Well, this is the last one and definitely the best one! To start with – this is a brewery turned into a museum, which is home to artifacts from around the globe – and has a history dating back to 5000 years prior to the current times. 
Here are some facts you must know about this museum – 
It has over 30,000 artifacts from different parts of the world – including Egyptian, Greek, Latin American, Asian, and contemporary domains 

You can also take your kids to participate in the museum's in-house – activities such as – themed playdates, storytelling and exercise classes. 
10. San Antonio City Bus Tour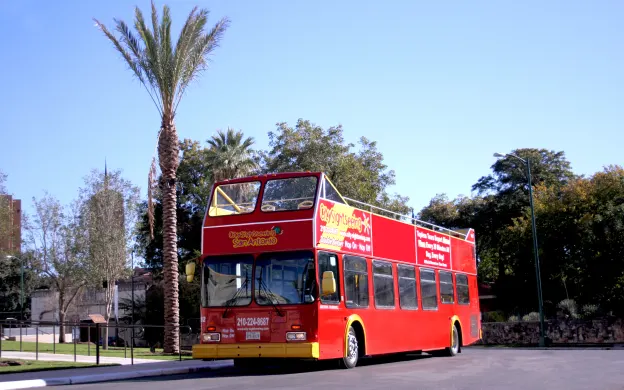 One of the last things to do in San Antonio with kids is to take them around the city on a bus tour. Just like any other bus tour, this offers you and your family – a hop-on trip for the whole day – helping you discover the areas from Riverwalk to Southtown. The bus will also make a stopover at some of the most-visited sites for a quick look around. 
While you are traveling and when you have made the stopover, there are professional guides – who will narrate the area's specifics and history to you to in an enticing manner. 
Once you are done with the places to visit, you cannot miss out on the food delights of this city. 
What are the foods you cannot miss? 
As already mentioned, if you are in San Antonio, there's no chance that you will miss out on the food! Once you are done checking out the sites with your kids, you can always take them to local eateries or food trailers to get some bites.  The Pearl District in San Antonio is the place for gastronomic! Bustling with local flavors and the trendiest of restaurants –  your kids are going to love the – puffy tacos (a dish Texas is famed for), sweet potato fries, chilaquiles verde, and chicken fried steak. 
Have some time left? You must try the – Charcuterie Plate, which comes more as a family meal. 
Pack your bags now 
With the listicle of things to do in San Antonio with kids pinned up on your desktop, check out the flight tickets or the bus bookings, book the hotels (if you have to – and opt for the downtown San Antonio area for easy accessibility) and pack appropriately (cotton and linen shirts are a must to beat the heat, carry sunscreen and hats). If you still have some queries or wish to add a thing or two to this article – do leave your thoughts in the comments section. For more trivia like this, keep browsing this website.
Monalisa Mukherjee is a content writer and copywriter with close to 3 years of experience. She has written for websites like Biography Talk, Contour Cafe, He And She Fitness and Fiction Pad. She is currently associated with a noted Digital Marketing Agency and specialises in writing articles for travel, entertainment, cooking, celeb, lifestyle, tech, health, fashion and film news.