Do you know that YouTube is the second most used social network portal with an active 2.6 billion active users? Nothing extraordinary, though! Since its launch in 2005, after closing in towards two decades – the popularity that this portal has attained is incredible. You, too, did not step back from enjoying the popularity, did you? After all, in 2020 Covid times – many did launch their own channels and marketed them quite well. However, with 2022 in its middle ground – you do realize that maybe, your channel came with an expiry date. Albeit – that's the reason why you are busy searching for answers to – how to delete a YouTube channel.
Not to worry! This article will provide specific details on how to delete your channel, if there are any repercussions, and finally – what if you wish to retrieve your channel? Wait no more and scroll down this document to get your mind cleared!
How to delete a YouTube channel?
It's a 10-minute job!! How to go about it? Well, you will have to sign into the account that you wish to delete. Since your Google account and YouTube account are connected, you will also find that to sign into your YouTube account; you will have to get through to the Google account.
Once you have signed into the account, you must scroll up and click on the icon that shows your account. From there, you will have to navigate your keys to the Settings option.
Under the accounts settings option – you will find an Overview option. Once you click on that – you will find the Advanced alternative that is placed under the channel's name.
As you scroll down – you will find an icon that states – Delete Channel or Delete Content. Now when you navigate the arrow on that – you may have to fill in your signing into the account details (there is a policy of reconfirmation).
Again you will have to reconfirm with the portal that you wish to Delete your channel permanently. Once you tick that option – your videos, watch time associated with them, playlists, URL of your videos, comments, votes – all of the above data would be completely deleted. You must note that there is no such policy or mode to recover the deleted data. However, if you have downloaded the videos – then you may have a copy of them.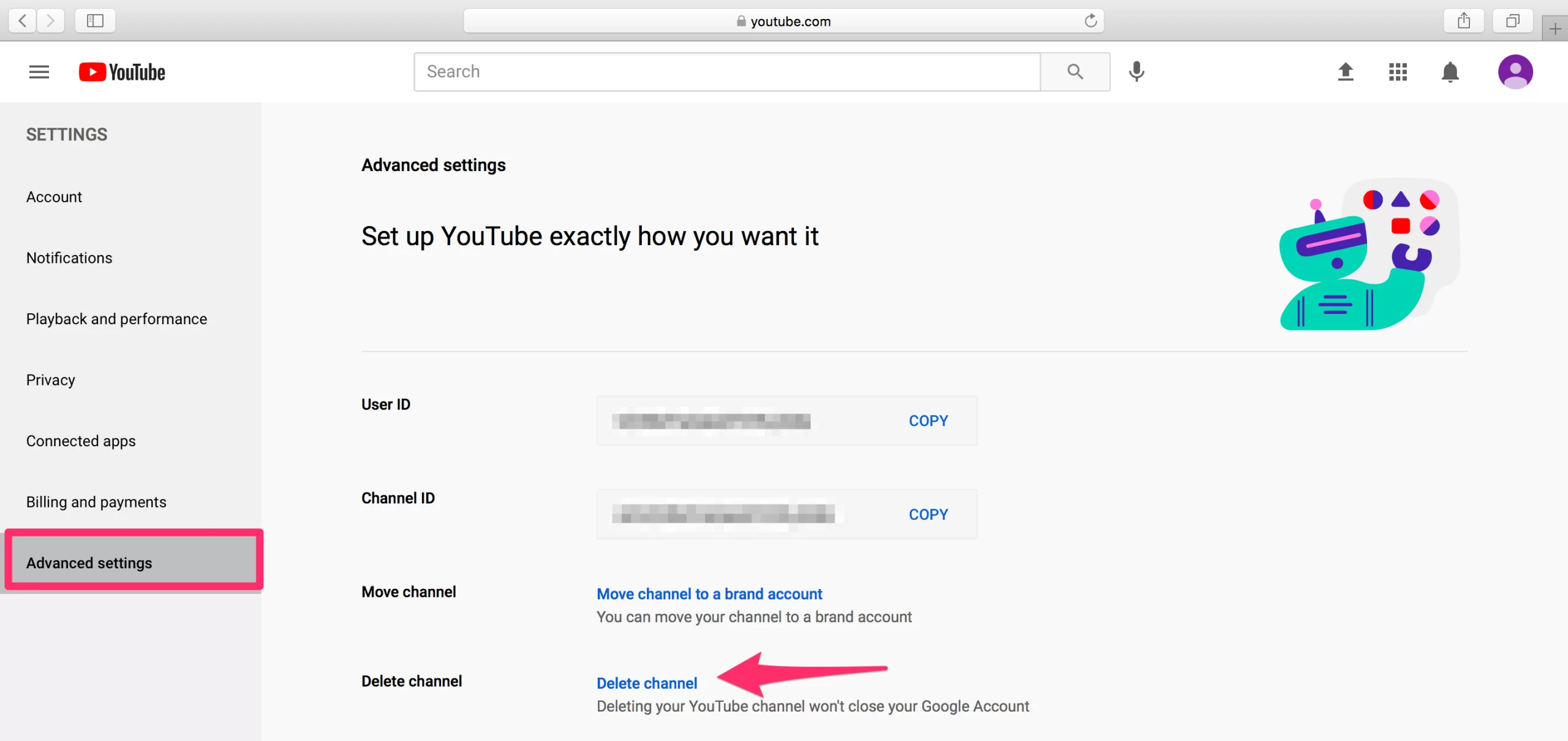 Are you sure you want to delete it?
Well, if you are in double minds about deleting your account, you can always choose the option to Hide your YouTube account. In this case – the Public account will be changed to Private. The contents of the channel, the comments, and the views associated with them will not be lost. So, when you wish to get back to the fore – you will have to just fill out some details and change your videos to the Public domain.
Any repercussions – financial or otherwise?
When you are looking to answer the query about – how to delete a YouTube channel – it is quite natural for you to think of the monetary issues. You already know that you can monetize your channel – you will require 4000 – watch hours, along with 1000- subscribers in the span of 1 year.
However, when you delete your channel, your videos will lose watch time. Hence, the next time – you will have to begin from scratch if you again wish to get into the monetizing game. However, there is no such policy of the social media profile that will charge you some money or levy a penalty – if you wish to delete your YouTube channel.
Why would you start a YouTube channel?
Now that you are standing at the threshold of deleting your YouTube account, why not go through the reasons you started it initially? After all, there are times that one may make decisions that they may think of otherwise in the future. Just to prevent that – it is important that you take a look at the reasons that you started it off –
Your outlet for creativity – The last 2 years and continuing have been quite depressing due to the pandemic. Starting a new YouTube channel has only fueled your creative side and provided an outlet for the same. It has only extended your reach to people wide and far and also with people with whom you have not been able to keep in touch physically. However, things are looking positive now, and maybe you are not being able to manage the channel – which is why you wish to quit.
Some extra cash never brought any harm – It is no secret that Youtube has generated quite an amount of revenue in its years of existence. In fact, in the last couple of years – the marketing strategies of the platform have given rise to quite some monetary gains. If you, too, have been a part of it, you are already aware of the revenue generated. Perhaps that is not quite enough an amount now, the reason why you wish to delete your account.
Attracting traffic for your extended business profile – Extended marketing was another reason that made you choose a YouTube account – from where you could redirect the traffic. However, it seems that the reason is not being fulfilled now. Wish you to find a better mode.
If these reasons do not match up with your current set of demands, it is best that you go ahead with the process of how to delete a YouTube channel, as mentioned in this article.
A wrap-up
Hopefully, this information could help you get a better hold on the query of how to delete a YouTube channel and ponder on the reasons for deleting this account and the process if you ever want to make a comeback. Do pin up this article for future reference. In case you know someone who requires help with this – do share the link for the same.
Monalisa Mukherjee is a content writer and copywriter with close to 3 years of experience. She has written for websites like Biography Talk, Contour Cafe, He And She Fitness and Fiction Pad. She is currently associated with a noted Digital Marketing Agency and specialises in writing articles for travel, entertainment, cooking, celeb, lifestyle, tech, health, fashion and film news.