What is worse than having an oily face full of acnes? Having acne scars that don't seem to leave your body, no matter how badly you try. They don't just make your appearance unlikely but also lower your self-esteem. If you think that acne scars are permanent, we'd tell you they're not. However, we hope you don't pick on them as that can make the condition worse. Here, we will tell you how to get rid of acne scars, so that you can remove them completely and have clear skin.
There are many ways to get rid of acne scars and the one suitable for you will depend on what type it is. Check out the different types of acne scars to figure out what you might have:Types of acne scars
Atrophic scars: these are small indentations on the skin. These happen when your skin doesn't have enough fibroblasts in the healing process. The fibroblasts are cells that play a major role to heal wounds and collagen synthesis.
Hypertrophic scars: the scars happen when your skin has too much of fibroblasts when you're trying to heal the scars. The process might cause a raised scar, which needs further treatment.
Keloid scars: the keloid scars are similar to the hypertrophic ones but usually thicker than the original acne. These are darker than the ones surrounding the skin and can look brown or red in color. You might see symptoms like pain and itchiness due to these scars.
Chemical-based remedies
There are several over-the-counter solutions to get rid of acne scars. First, let us check out the chemical-based ones that can solve your problem quickly:
1. Salicylic acid
Salicylic acid is one of the main ingredients present in a product that claims to fight acne. It clears dirt, skin cells, debris, and makes your skin clear from the pores. It reduces swelling and redness in that area as well. This, in turn, reduces the appearance of scarring.
Salicylic acid is useful for any time of scar and is a great addition to a regular skincare routine. If you have been living with acne scars for a long time now, this solution can change your life.
People who have sensitive skin might have to test the product that contains the acid on a small area of their skin, before using it on the entire face. This is to make sure that it suits them. People with sensitive skin might want to try healthier alternatives like home remedies. Note that salicylic acid can cause irritation and dryness.
2. Retinoids
Topical retinoids often help us get rid of deep acne scars. The solution blocks inflammation, speeds up cell regeneration, and reduces acne lesions. It answers how to fade acne scars that are hyper-pigmented, especially people who have dark skin tones. Note that retinoids make our skin sensitive to sunshine. People using the remedy cannot wear it and go under the sun. You should avoid going outdoors if you choose to get rid of acne scars with this remedy.
3. Alpha hydroxy acids
The acids of AHA can remove dead skin cells and also prevent clogging of pores. Many doctors suggest using AHA to treat acne and reduce scar appearance. The product is a mild acid that helps you scrape away the outer layer of your skin and reveal fresh skin underneath. The process might also help discoloration that happens from scarring.
4. Lactic acid
We have yet another acid that gently peels away the dead skin from the face. It helps reduce the appearance of scars and improve the overall texture of the skin. You can lighten the dark scars with lactic acid, so this is another solution for hyperpigmentation. However, lactic acid can have an adverse effect so you should use products that have lactic acid content. Use it on a patch of skin before treating your scars with them. There are many acne products that have lactic acid content. It is a part of apple cider vinegar that is one of the most natural and cheap home remedies.
Medical treatments
There are many medical treatments that can reduce your acne scars with time. Dermatologists tend to recommend procedures depending on the skin type, extent of scarring, and other factors. The medical treatment to get rid of acne scars are:
1. Chemical peels
When looking for how to get rid of acne scars dermatologist, you might be recommended to use chemical peels. It is perfect for a person's skin type, the severity of acne, scarring, and more.
According to a study by the Trusted Source, in 2017, six out of 10 people were found to use chemical peels called trichloroacetic acid. They had almost 70% improvement in scarring, while the others, not using didn't. There are other types of chemical peels, but they might not be as effective. For example, people who used glycolic acid didn't find it as effective as they expected. None the less, your dermatologist might recommend you to use different types of chemicals to find out what finally works.
2. Injections
Injections of corticosteroids might help to treat raised acne scar tissues if you have keloid or hypertrophic ones. The treatments consider of several injections and might take a few weeks to monitor results.
3. Dermal filler
Sometimes, dermatologist recommends the usage of soft tissue fillers for reducing the scar-like appearance. Dermatologists might choose fillers that consist of collagen-based products, that might require allergy testing. Further, removing fat from one part of your body might also be an option. People can use commercial fillers like polymethylmethacrylate, poly-L-lactic acid, and hyaluronic acid.
The dermal fillers work best towards atrophic scars, but the results are often temporary. The treatment tends to last between six to 18 months, in order to get complete treatment. There are also permanent options like laser treatments and micro-needling. You should only try these if your dermatologist suggests. Slow down the ageing process with dermal fillers by Aesthetic Lane in Orlando, FL
Microneedling
The process of microneedling needs you to insert needles into your skin and around the scars in order to stimulate your body and make more collagen. The collagen might reduce the appearance of scars by making the skin smooth.
According to a review published in 2017, microneedling was said to improve 31% to 62% of acne scar appearance. But you should note that it comes with side effects. There are people who experience pain, redness, and inflammation right after the treatment. Although, with time is does subside.
Laser treatment
Looking for ways on how to get rid of acne scars overnight? The perfect solution for you is laser treatment. In this case, the treatment resurfaces your skin without using chemicals and scrubs. The removes the upper layer of your skin and reveals the younger skin cells from within. The process reduces the appearance of scarring.
Laser treatment isn't suitable for everybody. However, your condition can determine how well it will work for you. Skin type and age are also important factors. The treatment might cause a reaction, especially if you have sensitive skin. So, you must be aware of your skin type and then decide if you should do this or not.
How to get rid of acne scars with home remedies?
Home remedies might not help you get rid of acne scars overnight, but they are gradually effective. Consistency is key and you are not far away from having flawless skin:
1. Tea tree oil
Tea tree oil has truckloads of antibacterial elements that can work miraculously for your acne scars. It is one of the best remedies that can remove acne marks, pimples, and clear your skin. These have antimicrobial properties that work like magic on your skin. Find out how to use it to your benefit.
How to use?
Take one teaspoon of coconut oil and add it to a mixing bowl
Add 3 drops of tea tree oil and blend it with coconut oil
Apply the mix on your face every night before going to sleep
Wake up the next morning and clean it with a gentle cleanser
2. Vitamin E Oil
The goodness of vitamin E is not alien to any one of us. It is one of the best ingredients for our skin and can reduce pimples marks quickly. Vitamin E comes with the goodness of skin regeneration and fights aging signs. It keeps your skin hydrated and also restores the glow.
How to use?
Extract vitamin E oil from its capsules
Cleanse your face and apply the oil
Use a cotton ball to spread it all across the scars on your face
Let it sit for 15 minutes so that it absorbs
Cleanse your face
3. Coconut oil
The wonder oil of coconut is loaded with nutrients and makes it an amazing skincare product. Due to high amounts of vitamin E & K and antioxidant content, coconut repairs our skin and regrows it healthy. You can reduce pimple scars with coconut oil because of its antimicrobial and anti-inflammatory content. With regular use of coconut oil, you can prevent acne build-up.
How to use?
Rub one teaspoon of the oil between the palms
Dab it lightly and spread all over the face
Stress on your scars more and don't make your entire face oily
Leave the oil overnight and cleanse it the following morning
4. Apple cider vinegar
From losing weight to having clearer skin, apple cider vinegar has lots to do for you. ACV includes anti-inflammatory properties that reduce inflammation and reddening of acne scars. It also helps them fade gradually. However, the remedy can dry your skin so you will have to add moisturizer after using it.
How to use?
Mix one tablespoon of ACV with two tablespoon honey
Add water to the mix and dilute it
Blend well and use a cotton pad to apply the mix all over your acne scars
Let it sit for 20 minutes and then wash it off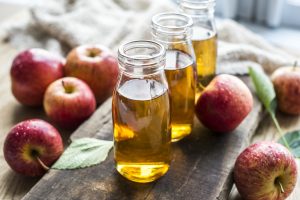 5. Lemon juice
One more element that can help you get rid of acne scars quickly is lemon juice. It is one of the common remedies for pimple marks and lightens your skin. The acne scars gradually become less visible and you have your younger-looking skin.
How to use?
Squeeze out the juice from one half of a lemon
Dip the cotton pad into it and apply it on the affected area
Let it sit for 10 minutes
Clean it up
Tips to maintain healthy skin
Women who have oily skin are likely to have breakouts that eventually lead to acne scars. You need to follow some tips to maintain your skin in order to keep it healthy. Check out some of the tips that you must keep in mind when taking care of your skin:
Make sure you drink lots of water to keep your skin hydrated and healthy
Stick to using one type of acne scar treatment and only switch if it doesn't suit you. Trying too many treatments can leave your skin dry.
Add nutritious food in your diet to keep away frequent breakouts and bring out a natural glow.
Exercise regularly to get all the toxins out of your body and face
Use the right kind of skincare products so that they help you prevent acne and pimples
Don't even pick on your acne scar as they can become a permanent problem for you
Use expensive creams that are effective and have fewer chemicals in them
Follow a proper skin routine that includes cleansing, toning, and moisturizing every day
Final thoughts
These are some of the ways to get rid of acne scars with time. If you're looking for quick treatments, you can try laser treatments. But if you want to go organic and give your skin the time and care it needs, home remedies are best. You might also want to buy skincare products that claim to reduce acne scars. But how effective they'd be, you'd never know until you use them regularly. Even home remedies will take time, but they will show visible results with every use.
It is time you choose what kind of treatment you want for your acne scars and how to go about it. Make sure you also switch over to a healthier lifestyle to maintain better skin health.
Writing allows me to pour my heart out in words. So, that's what I've been doing for the past 6 years. I strive to bring in a change in the world by taking tiny steps of curating the right message that needs to be conveyed.