LKG Hindi worksheet for kids can help them to learn the basics of the Hindi language through a range of worksheet activities. These activity worksheets can help you to teach your kids Hindi at home. When they get an effective, fun, and interactive way of learning, kids can learn faster. Learning Hindi is very important for kids when they are young. It plays a crucial role in the all-around development of your little toddlers. Therefore, the best time to teach them Hindi is now. Check the list of several types of LKG Hindi worksheet for your kids to facilitate their learning. 
Importance Of Hindi Teaching
Hindi is the official language of India and is written in the Devanagari script, which is also used for many other languages like Sanskrit, Nepali, and Marathi. It has thirty-three consonants and eleven vowels and is written from left to right. The vowels come first, followed by consonants based on their phonetic sound articulation in the mouth. 
The Hindi language is the second most spoken language in the world after Mandarin Chinese. It's estimated that nearly half a billion people worldwide speak this wonderful language. Besides, Hindi is one of the many languages in India that is considered to be the national and official language of the northern parts of India. Also, India is one of the biggest economies in the world, so learning Hindi can have great career potential. 
Types Of LKG Hindi Worksheet
There is a wide range of LKG Hindi worksheets you can bring home for your kids that can help them learn in an easy way. Check the below-given list: 
1: Hindi Alphabet Writing Worksheet
Hindi alphabet writing worksheet is an easy way for the kids to learn to write the Hindi alphabet with ease. It contains all the vowels and consonants so that your children can practice and learn Hindi writing. To form the words, it is important to learn the basic elements that are the alphabets. The colourful and illustrated worksheets are great for engaging kids in the Hindi learning process. 
2: Hindi Fill In The Blanks Worksheet
This is a very basic and easy worksheet to learn Hindi words. Look at the picture and say the word in Hindi. For easy learning, a few letters are given as clues. Try to fill the missing letter in the blank. This LKG Hindi worksheet for kids can be very helpful for you to teach your kids Hindi at home.
All you need is to guide them through filling the words in the blank space, giving them next to the Hindi alphabets. With more practice, they can make the words with absolute ease. Once they develop their interest in filling the worksheets, you don't even need to look after them.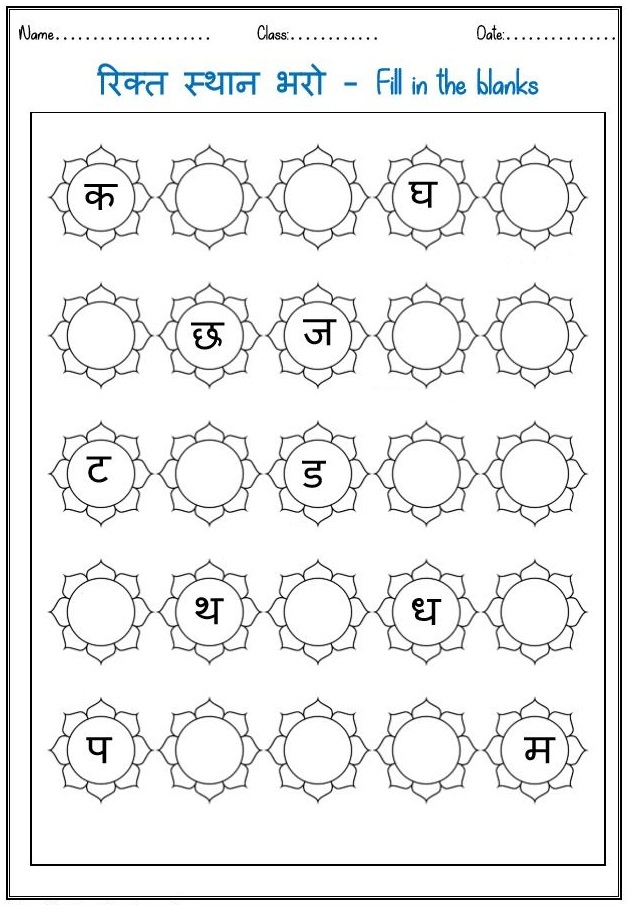 3: Hindi Vowel Worksheet
Vowels are the first thing your kids need to learn. Vowels are the words that are needed to make other alphabets in the Hindi language. Besides, they lie on the top of the alphabet table. Once kids learn vowels, they can proceed further with consonant learning. This LKG Hindi worksheet for kids can help them to learn vowels with the utmost ease. This worksheet has everything that can facilitate the kids learning. For instance, your kids can practice with the illustrated sheets and lines to form Hindi vowels. 
4: Hindi Consonant Worksheet
Once your kids have learned Hindi vowels, make them learn and practice consonants. Learning vowels and consonants is very crucial for forming Hindi words. This worksheet can help them to learn Vyanjana with the help of several practices such as tracing, dot filling, and several others. It is a very comprehensive worksheet best for beginners. Above all, these worksheets are great for your kids' preschool learning. 
5: Hindi Color Worksheet
Colouring is a fun activity for kids. When learning combines with fun, kids learn faster. Coloring Hindi worksheets can do the same task for the kids' Hindi learning. It can lay the foundation in learning Hindi Varnamala. It may include Hindi alphabets to colour or the picture of a word starting with the particular alphabet. 
This LKG Hindi worksheet can be one of the most efficient ways for the kids to learn Hindi alphabets when colouring them. Bring them a box of colours. It can be crayons or pencils colour as they like it. As they colour, they will learn. 
6: Hindi Shape Worksheet
Learning the name of the shapes is also an important part of Hindi learning for the LKG kids. When they learn vowels and consonants and become able to read the words, you can give them this worksheet, where they can get to read about the basic shapes in Hindi and try to write their names. 
Learning about shapes can enhance their interest in artwork and drawing as well. This worksheet for the kids can help them in their diversified learning. Kids have dynamic learning capabilities. You can take tiny steps and help them to get started with Hindi learning. 
7: Hindi Vegetable Worksheet
Vegetables are amazing, and kids want to play around them. You can support your kid's Hindi learning by providing them with Hindi vegetable worksheets. They are all free to use with your kids. It has a nice variety which includes worksheets for writing the names of the vegetables. These free worksheets make a great addition to the kids trying to learn Hindi. 
8: Hindi Alphabet Tracing Worksheet
Tracing can be one of the best practices for kid's learning. It helps them to get a good command in making lines, curves and other complex patterns so that they can form words with ease. Besides, Tracing is a powerful way to practice fine motor control. Toddlers are just starting to enter the emergent writing period when they begin to understand that writing is another way to express their thoughts. However, they don't yet have the fine motor strength and control to write Hindi letters. This Hindi alphabet tracing worksheet is really helpful for the kids.  
Final Words
The list of the LKG Hindi worksheet described in this post can help you to teach your little toddlers to write their first Hindi alphabets. Kids learn very fast, so now is the high time when you can make them start learning Hindi. If you liked this post and want more hacks for children and kids, make a visit to our blog section.