With National Video Game Day approaching, the market value of video games seems to be going for a boom – it is expected to achieve a figure of $260 billion by 2025. Having considered that, one must delve deep into the magical world that these digital games create and the characters that they portray. Keeping the other points aside, there has always been a problem of shoddy writing and over-sexualisation regarding female video game characters. Over time though, this has changed, and there has been a barrage of strong personalities on the game's front.
In this article, we will discuss some of the best female characters that the world of games has put forth and how they have entertained gamers over time. Let's begin –
Which are the top female video game characters?
Here's the list for you –
1. Princess Peach – Nintendo's Mario franchise
Born as the princess of the Mushroom Kingdom, she is one of the first female characters created in the world of digital play games. Though initially, you will find her to be playful and cute, it is her innate feminine power that distinguishes her from the rest.
Her jolly outings with Luigi and Mario make for a great game. Her compassionate nature and strong personality with charm – make this video game worth more than a play. Who says kindness is not strength? Peach is the female to fall for!
2. Princess Zelda – The Legend of Zelda
The titular character in Nintendo's The Legend of Zelda though starts off as a damsel in distress (much in tune with the 1986 conception), but in moments of despair, her tough attitude comes to the forefront. A kind, loyal and virtuous woman, she possesses magical powers and uses them to assist people in need.
As an individual who is extremely protective of the people of Hyrule, she believes in using her magical prowess for the benefit of her people. Also, the way she manages and mends her relationship with Link is notable. Her bravery, strength, and determination – believing in and standing up for what is right, make her an incredible persona in the world of video games.
3. Kitana – Mortal Combat
Normally female video game characters take some time before making a splash. That was not the case with Kitana who instantly made a splash with her appearance in Mortal Combat II. Ruler of the Outworld, a royal from Edenia, started out as an unplayable character but, with time, became an unbeatable figure in the fictional domain.
Though she relies on her Steel fans, it is her success in hand-to-hand combat that makes her as one of the most talked about video game characters of the 'less dominant' gender.
4. Blood Rayne – Terminal Reality
She is a name to reckon with! One of the first video game characters to have forayed into the mainstream publication domain, she is known as Agent BloodRayne, Rayne or the Nazi-killing Dhampir! Sadistically seductive in nature, she is headstrong and bold. One of the most notable female video game characters her intelligence rests in – her confidence when it comes to defending humanity from the supernatural domain and standing true to her position as part of the Brimstone Society fraternity.
A notable character with a snarky dark side to her personality, she is resourceful, persistent, and enduring, topped with an amazing capacity and capability to handle every problem at her disposal.
5. Chell – Portal series
For all those who swear by the concept of 'silence is strong' – Chell from the Portal series is the character you would swear by! Armed with a tenacious character, she was subjected to experimentation by the Aperture Labs. However, in due course of time, she defeated GLaDOS and reclaimed her lost status.
Abnormally stubborn in nature, her silence holds her ahead of any contemporary and makes her one of the best-created female video game characters of all time!
6. Samus Aran – Metroid series
An ex-soldier metamorphosed into a bounty hunter; she is one of the oldest female video game characters to mark her name on this list. Edging into the viewer's hearts back in 1986, she wrapped in her high-tech armor ensures to win the games with her wit and flexibility.
As someone who wears a Power Suit and can morph into a rolling ball as and when required – she has been at the forefront of powering female characters in video games for over two decades now. With the Space Pirates as one of her key enemies, she is an unparalleled warrior at heart and manages to maintain peace in the galaxies to the best of her abilities.
7. Cortana – Halo series
Even if you have never played the Halo series of games, there's no chance that you have not heard of the AI bot Cortana. One of the most beautiful and strong women ever created in the domain of video games, this character was created to aid the capturing of a Covenant Prophet.
What is the most interesting factor about this character is that – she has been humanized in her depictions by her sense of loyalty to the Master Chief and her kindness. Witty, smart, and resourceful – she is a character worth noting.
8. Bayonetta – Bayonetta series
What's defining the strong female characters if Bayonetta is not on your list? A mysterious Umbra Witch of coquettish nature, she is known for her skills in Bullet Arts and the way she masters handling new weapons. Whether it is the forces from Paradiso or Inferno, she knows the tactics – and combines her physical and intellectual skills to defeat them all!
As one who holds massive magical prowess, she manages to overpower her opponents who are the likes of – Loptr and Jubelius. If you are looking for a truly strong female character – Bayonetta can be your friend.
9. Ellie – The Last Of Us series
When the world is unkind to even the kids, the trauma that they have to undergo is unbearable. That is quite the case with Ellie, from The Last of Us series. One of the best-curated female video game characters she is a 14-year-old who is immune to the virus that has almost left the rest of humanity paralyzed.
At the very beginning, we find her tackling the most difficult of tasks in a crucial manner. This reveals her resilience and shapes her personality. Incredibly resourceful, her friendship with Joel and her strength to deal with the trials and tribulations that life throws at her make this character extremely human.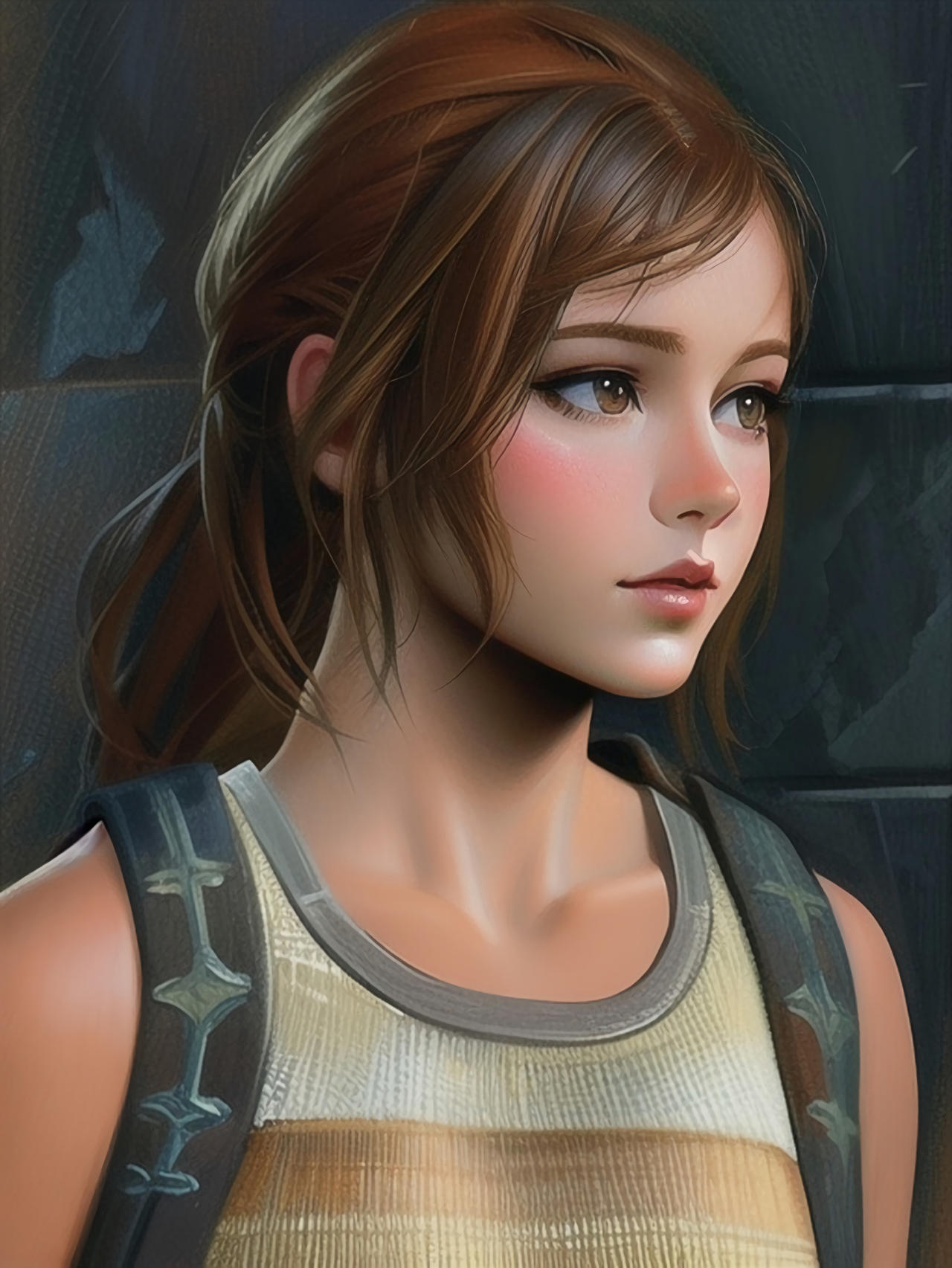 10. Lara Croft – Tomb Raider
There's no other way to end this discussion about female video game characters without mentioning Lara Croft from Tomb Raider. Though the other characters have tried in their best possible ways, the benchmark difference that Lara Croft brought to looking at female characters in video games is notable!
Though the lovers of Tomb Raider had always stated that they were a bit embarrassed about the sexualization of Croft, but couldn't ignore the fact that she was one badass action hero. With her two pistols, she would go on a solo trip to tombs to deal with booby traps and take humongous leaps of faith. Though initially, she for a time period – came across as a relatable vulnerable heroine,, her character arc since 2015 has been notable. In the latest edition of the game, we do see her again as a strong individual taking on strides of power to conquer the globe.
Though we have seen how female characters in video games have been empowered over time, one cannot deny that – compared to their male peers' certain discrepancies remain. It is crucial to understand those and work better to solve that.
Some discrepancies still remain
Despite some strong female video game characters making their mark in the digital world, to date, sadly, boys get the best roles while girls get short skirts. In fact, check out any of the latest video games; you will find for yourself how the female characters are to date portrayed by the male gaze.
In case any controversy arises, the creators automatically resort to saying that the background of the game, its base is such that it has to be created from a patriarchal viewpoint. Hence, the woman is made to function as a 'mere object.' Unfortunately, these discrepancies still remain, and one can only hope that, with time, there will be further innovation in the domain of video games, where the audience will see better etched-out female characters.
Wrapping up
As you have checked out this list of female video game characters, which of them has been your favourite? Is someone missing from this list? In that case, do leave your thoughts and comments below. Keep checking this website for more!
Monalisa Mukherjee is a content writer and copywriter with close to 3 years of experience. She has written for websites like Biography Talk, Contour Cafe, He And She Fitness and Fiction Pad. She is currently associated with a noted Digital Marketing Agency and specialises in writing articles for travel, entertainment, cooking, celeb, lifestyle, tech, health, fashion and film news.